Changing local tastes driving B&R food imports
Share - WeChat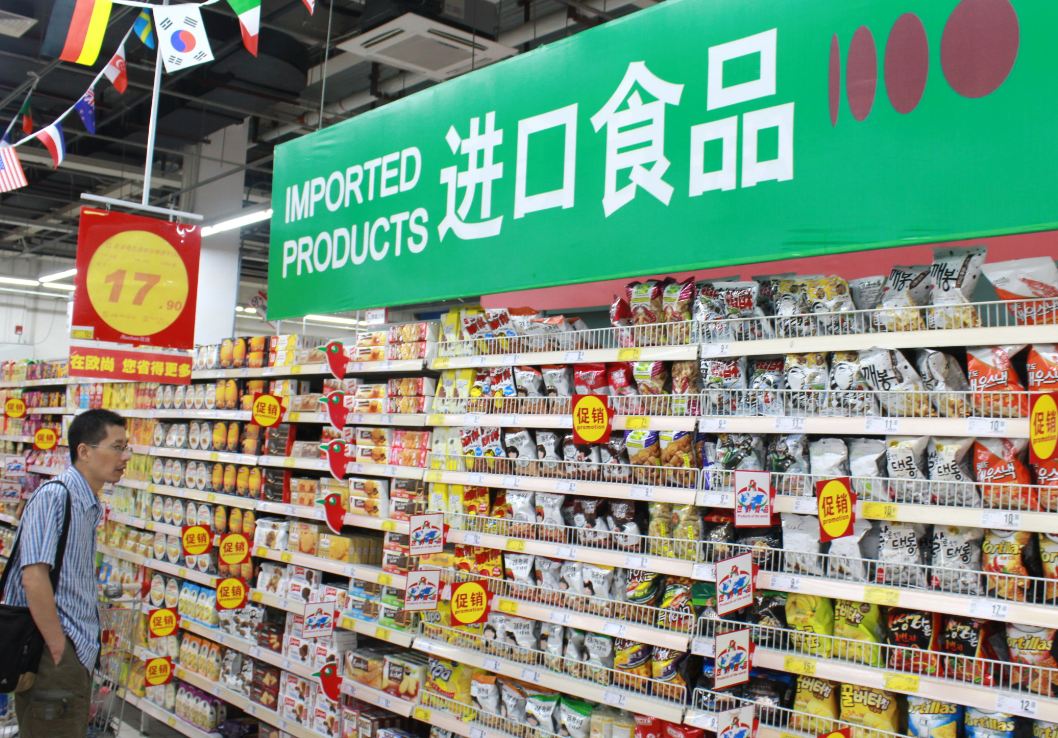 SHANGHAI-Chinese homes had once never heard of exotic products such as African shea butter, Spanish artichokes and Arabic herbs, but all this has changed thanks to increasing trade with economies that are part of the Belt and Road Initiative.
At a recent food expo in Shanghai, Nong Zhimin, general manager of a food company, offered free samples of pickled artichokes for visitors to taste at his booth. Much to his surprise, the vegetable received a warm response.
"Compared with star products like avocado and kale, artichokes have just entered the Chinese market and are less well known, but we're confident they will soon be widely accepted," Nong said.
Spain, Peru, Italy and Chile are among the largest artichoke producers in the world, but Nong said a 530-hectare plantation had been set up in central China's Hunan province to meet burgeoning demand-he believes artichokes could be China's next avocado.
"Consumers in Shanghai are willing to try out new flavors, especially those from European countries," Nong said.
Though avocados only entered the Chinese market several years ago, imports have been soaring. In 2011, China imported 31.8 metric tons of avocados, last year the figure hit 32,100 tons, an increase of more than 1,000 times.
The green, creamy fruit challenged Chinese perceptions of traditional fruits, which are often sour, sweet or juicy. But it eventually won the hearts of middle-class foodies as it is nutrient-rich.
The same story can be told of kale and chia seeds. Native to the Mediterranean, kale is now a popular addition to salads and light meals in cities across the country, while chia seeds have become popular as a health food, though they were only approved by the authorities to be used as food ingredients in China four years ago.
The internet has helped these products gain attention. On Xiachufang, one of China biggest cooking websites, more than 200 chia seed recipes have been uploaded, with mouthwatering pictures and elaborate introductions on their effects and use.
The flourishing food import market comes after tariff cuts and easier access to the Chinese market in recent years, especially for food from Belt and Road economies.
Afghan businessman H. Qayoum Azimi has been living in Yiwu, a small city not far from Shanghai, for more than 20 years. His company, Azimi Brother's Group, has in recent years turned from exporting products made in China to importing Arab products.
Now they mainly import lithospermum, a kind of herb, from Arab countries to China. Every year, Azimi's company imports more than 100 containers of lithospermum to China, and he plans to introduce more products from his homeland.
"We hope to bring gems, blankets, saffron and many other quality products to China via the China-Europe trains," Azimi said.
Holding a bottle of shea butter lotion, Adjei Bernard Owusu, secretary-general of the Ghana Chamber of Commerce and Industry in China, smiles confidently.
"I am not worried about its sales at all, as shea butter has proved popular at various expos in China," he said. "We have opened an online store and are considering opening a branch in Shanghai to sell more farm products from Ghana to China."