Technology reshaping retail
Share - WeChat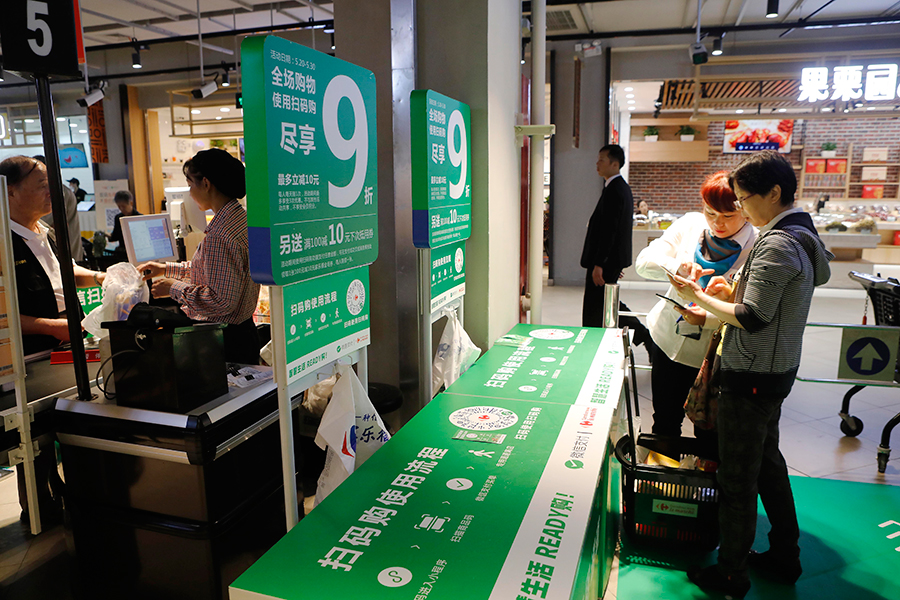 Alibaba, Tencent chart different routes to combine online and offline shopping

As New Retail evolves from jargon to practice, China's tech giants are busy throwing their hats into the ring.
First, it was Alibaba Group Holding Ltd that pitched its tent. Tencent Holdings Ltd followed suit. Both are looking to redefine retail and shape the industry's future.

New Retail refers to the integration or interlinking of online and offline shopping using new-age technologies, data and customer engagement techniques. It's a faddish term coined by Alibaba's charismatic founder Jack Ma in 2016.

But as Tencent expands its purview into offline commerce, people need to bear in mind two things, market observers said.

One, Tencent confines its role as an "enabler and infrastructure provider", and insists calling such initiatives Smart Retail instead of New Retail.

That path diverged from the one taken by its multi-faceted rival Alibaba that has clinched a flurry of stake-controlling deals or built its own retail prototypes in order to take on existing physical stores.

Two, Tencent is taking a milder approach to Smart Retail/New Retail. Its top and senior executives, including its chairman Pony Ma, have openly reiterated that Tencent is not keen to open its own physical shops. Rather, they aim to enable digital versions of existing physical stores and improve customer experience by upgrading technological capabilities via partnerships.

"We don't do retail, not even any e-commerce, but we only serve as a utility provider, offering an IT ecosystem for retailers ... and giving opportunities to all partners," Pony Ma told media in March in Beijing.

"Although online retail will continue to grow, the share of shoppers' spends online of their overall spending is expected to remain at the same level," said Matthew Crabbe, Asia-Pacific research director of consultancy Mintel. "That means online retailers need to combine online-offline offerings in order to continue growth."

Agreed Wu Weijia, an equity analyst who focuses on internet-based businesses at ICBC International Holdings Ltd. She said the inevitable slowdown in online shopping volumes has forced internet giants to march into offline retail, which accounts for roughly 85 percent of China's 36.6 trillion yuan ($5.7 trillion) retail market.

Tencent tiptoed into the retail realm four years ago, first by introducing offline industries to its indigenous WeChat Pay. The move was farsighted and strategic: the WeChat-embedded wallet has effectively shaken the dominance of Alibaba's Alipay as more are accustomed to using the messaging app to perform tasks and run errands on a daily basis.

It has since taken on two major strategic plays. One features tie-ups that involve no equity stakes. For example, it supported a "magic mirror" system for Danish apparel brand Bestseller S/A, allowing customers to view themselves in the clothes they pick, automatically swap clothes with other recommendations, and accepting facial recognition-based payment via WeChat.

A latest case is that of South Korean cosmetics brand Innisfree. Tencent's technologies from virtual reality and big data analysis to mobile payment are used in Innisfree's first global smart store in Shanghai where an electronic mirror can allow customers to try varieties of lipstick virtually and complete the purchase with a few taps on the phone.

In March, Tencent did a bit of tech muscle flexing by pioneering unmanned convenience stores in Shanghai; it also heralded cashierless retail through vending machine solutions like EasyGo, Miss Fresh and CityBox.

In this new format, a customer walks in, grabs an item, and leaves the store, while the storefront scanner reads the information in the chip embedded in the product tag and sends the bill to the mini programs in the customer's WeChat app.

While Tencent hasn't picked up stakes in any of these partners, consumers must first authorize WeChat to access relevant personal information and are advised to follow the brands' official account, a newsfeed service embedded in WeChat. This is a route commonly adopted by companies for customer relationship management in China.

"Tencent's smart retail solution is optimized through various tools such as Tencent Cloud, social advertisements, and the Mini Programs, a mobile app-like functionality embedded in WeChat," said Bai Zhenjie, operations director of WeChat Pay.

He said big data and intelligent identification of users will help merchants improve operational excellence by keeping in touch with users and providing customized offerings in a bid to draw and retain customers.

According to Bai, integrating their solution with retailers will bring in customers' data, giving them a massive pool of information they can leverage to maximize revenues.

"Data is the most important element in redefining retail," said ICBC's Wu. "With big data, multi-dimensional digital marketing can help increase the monetization rate of advertisements as well as the conversion rate of the online and offline merchants with the platforms."

From late last year, Tencent stepped on the gas pedal through deeper penetration into retail. It purchased a stake in Super Species, the new retail unit of one of China's largest supermarket chain operators Yonghui Supermarkets. It then invested an undisclosed sum in French supermarket chain Carrefour SA, and purchased stakes in Dalian Wanda Group, which owns commercial properties, malls and hotels around China.

In the Le Marche store, which Carrefour and Tencent co-developed and opened in May in Shanghai, all items sold in the store bear a distinctive bar code that customers can scan and buy using WeChat.

"Consumption data collected via WeChat Pay can help us pinpoint customers and predict their preferences. We can feed promotional deals to attract new customers, or push in-app notifications to engage with recurring shoppers," said Tian Jiangxue, deputy general manager in charge of strategy at Tencent Smart Retail.

But being minority stakeholders or simply partners means none of these tie-ups could give Tencent a decisive say in the new venture.

For instance, product sourcing and supply chain management at Le Marche are still in the firm grip of Carrefour. This contrasts with Alibaba's joint purchase agreement with RT-Mart, which the tech giant took over earlier this year. Customers can purchase products from a Daily Fresh program that first debuted in Alibaba's Hema Fresh food chain.

Tencent is poised to benefit from relatively lower costs and risks derived from the "partnership model", said Neil Wang, China president of consultancy Frost & Sullivan.

"Tencent typically buys a small stake (usually around 5 percent) in partners that it cooperates with. Even if one program faces failure, it won't be a big deal," he said.

Meanwhile, the model magnifies Tencent's technological strength and provides more avenues for the adoption of WeChat in offline scenarios, Wang said.

Crabbe of Mintel said partnerships offer an advantage in that they can be set up quickly. Companies like Tencent or JD can get into grocery retailing by enabling distribution of food products through convenience store chains, without having to build new infrastructure.

"But the disadvantage is loss of control-relying on the partner to deliver good quality service, and loss of full control over customer service, and consequently the brand perception among consumers for that quality of service," Crabbe said.