Xiaomi stumbles on HK debut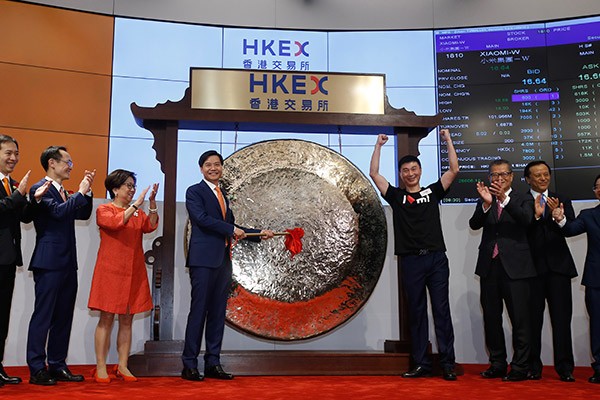 Mega float sees subdued demand amid mounting concerns over high valuation
Xiaomi experienced a weak trading debut in Hong Kong as its once-highly anticipated initial public offering faced muted demand.
Shares of Xiaomi opened down at HK$16.60 ($2.16) on Monday, more than two percent below its offering price of HK$17 and extending Friday's lackluster performance when the company's shares closed gray market trading at HK$16.10.
The Beijing-based company ended its trading debut 1.18 percent lower at HK$16.80, after touching a low of HK$16 and briefly peaking at HK$17.00 in the morning session.
"It is not necessarily a bad thing to start out from a low point," Lei Jun, Xiaomi founder and chief executive, said at a listing ceremony at the Hong Kong stock exchange on Monday. "Getting listed in Hong Kong is already a big win for us. It also marks a fresh start."
The entrepreneur, who founded Xiaomi eight years ago, said the market debut is "much better than expected", given that the global capital markets are in constant flux at this critical moment in Sino-US trade relations.
Xiaomi, the world's fourth-largest smartphone maker by shipments, has undergone a series of twists and turns on its path to the $4.7 billion Hong Kong listing, amid mounting concern over its hefty valuation and the delay of its plan to become the first company to offer China Depository Receipts on the Chinese mainland.
Lei said the company reached an agreement with the China Securities Regulatory Commission two weeks ago that the time was not right for the issuance of CDRs.
"The issuance of CDRs is a pilot project, so we have to make sure that everything is all right," Lei said. "It would be better to get it done after Xiaomi's stock trading in Hong Kong gets on the right track."
Dismissing the idea that the lukewarm performance of Xiaomi's offering casts doubt over investor appetite for companies with dual-class share structures, Hong Kong Financial Secretary Paul Chan Mo-po said the listing heralds a new stage for the local bourse, with more companies with similar structures following suit to go public in Hong Kong.
Derivative products such as futures, options and warrants are also available on the trading debut-something that was only previously seen when Industrial and Commercial Bank of China and AIA sold shares in Hong Kong, said Hong Kong Exchanges and Clearing Chief Executive Charles Li Xiaojia.
Such a move looks to invite more participation in the trading of Xiaomi, whose offering-the first one under the city's newly-launched dual-class share regime-would lead Hong Kong to long-term success, Li said.
The flagship Hang Seng Index was 1.32 percent, or 372.88 points, up to finish at 28688.50 points on Monday.