World Cup boosts the soccer economy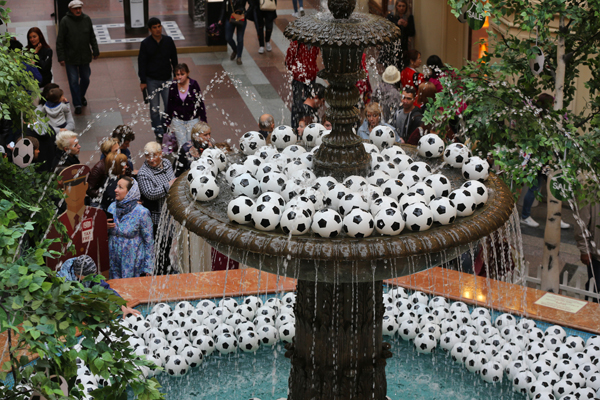 MOSCOW-The 2018 World Cup in Russia will draw to a close on Saturday, and the event that began on June 14 has been already hailed as a commercial and economic success.
Fans from all around the world have enjoyed a soccer celebration whose economic benefits will accrue to not just the host nation but those taking part, experts said.
A report by Professor Francesc Rufas, an expert in the "soccer economy" at the EAE Business School in Spain, highlights the benefits for the host nation Russa as "a short-term increase of 0.5 percent in GDP, which comes thanks to the economic boost given by tourism and the construction of infrastructure".
This can be offset by rising prices with an average 1.2 percent increase in inflation during the tournament as bars, hotels, restaurants, airlines, local transport firms increased prices to take advantage of the tens of thousands of extra visitors during the competition.
Host nations also have to be aware of an increase in the deficit, which rose by $15 billion in the case of Brazil in 2014 and $12 billion in South Africa four years earlier.
However, he believes a World Cup can still be profitable "when investment is directed at re-usable infrastructure and improvements in public transport and traffic," although these effects are clearer in countries where there is no corruption and all the money goes into the projects rather than into pockets.
Even just playing in a World Cup can have a positive effect on a country's economy, thanks to what Professor Rufas describes as the "euphoria effect," and there can be a rise of up to 10-15 percent in the purchase of certain items (such as new TVs to watch games, sportswear, food and beverages at sports bars, so on).
For, when people watch games, they tend to eat and drink. There will be an estimated 10-15 percent increase in the sales of certain foods and drinks.
That is accompanied by a 20-30 percent rise in advertising revenue as producers look to take advantage of a short-term boom and sell their products to fans who not only want to watch their country play on a new TV, but to celebrate their triumphs with perhaps a beer or two.