Wanda takes flag bearers to 2018 FIFA World Cup
Share - WeChat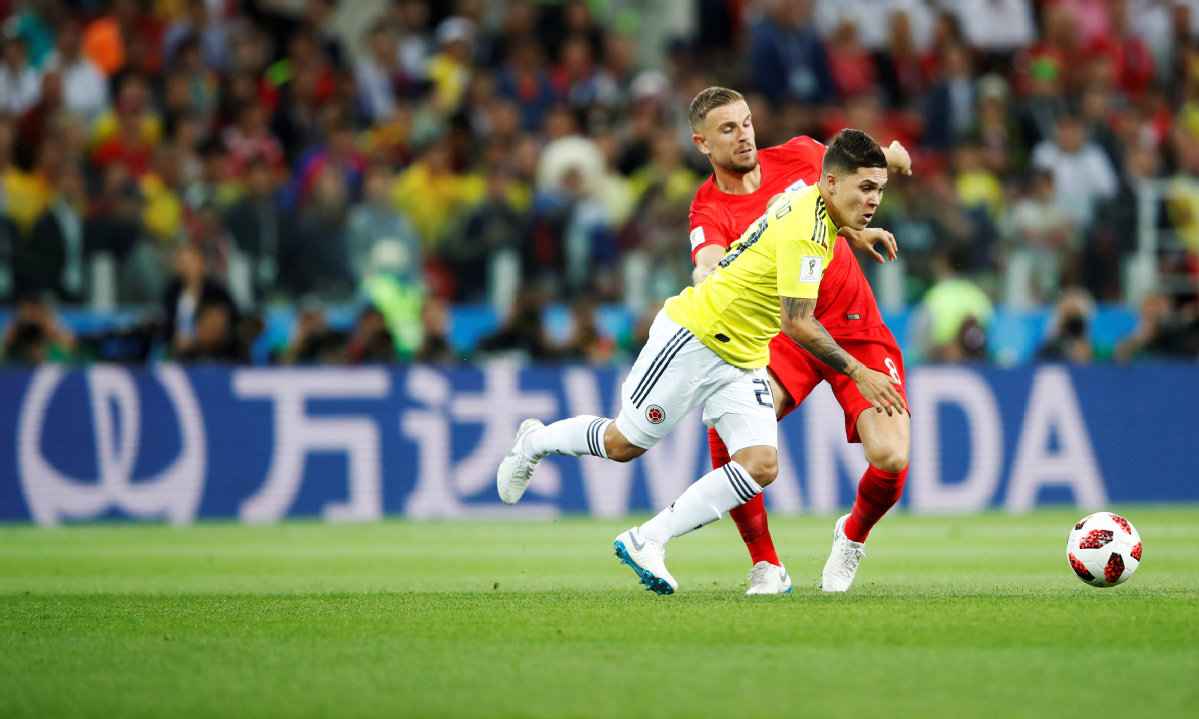 Entertainment, property group inspires country's next soccer stars
While the 2018 FIFA World Cup is winning the hearts of billions of soccer fans on summer nights, its top-level sponsor Dalian Wanda Group Co Ltd is stepping up efforts to back the nation's sports industry in its own way.
As the only Chinese first-tier World Cup sponsor, the property and entertainment conglomerate had the privilege to take 384 children between the ages of 12 and 17-among which over 200 are from China-to Russia. They are acting as flag bearers, carrying FIFA flags onto the pitch before each game during the 2018 World Cup.
Among them are children from less-developed areas in China, such as Danzhai county in Southwest China's Guizhou province, who are getting the chance to travel abroad for the first time. Young Chinese players from Wanda's Future Football Stars program are also joining in.
"One of the primary reasons for us to sign the partnership with FIFA was to inspire the next generation of Chinese soccer players. We took the children to the soccer pitch, inspiring the adolescents, as well as enriching the experience for soccer players and fans. These values we gained are hard to quantify," said Yang Hengming, president of Wanda Sports Group. Andy Sutherden, global practice director of Sports & Partnership Marketing at Hill and Knowlton Strategies, said, "As one of FIFA's leading partners, Wanda's activations will help football really develop from within-both at an elite and grassroots level-setting the benchmark for other FIFA partners and Chinese brands to follow."
The company's devotion to the nation's sports industry can be traced back to 2011, when it launched its Future Football Stars program, which sends young soccer players to Spain for training.
Wanda has invested at least 200 million yuan ($30 million) in each phase of the program, selecting 90 young players for a three-year training program in Spain. The investment is the largest single sponsorship fund for youth sports training since the founding of the People's Republic of China.
By 2018, Wanda had successfully sent six groups of young soccer players overseas to receive training. It is expected that in the coming three to five years, trainees from among their ranks will be selected into European leagues and continue to improve their skills, and this group of talents will be the backbone for China to enter the World Cup in the future.
He Wenyi, executive director of Peking University's China Institute for Sports Value, said Wanda has long been devoted to the nation's soccer industry.
"Hundreds of young soccer players have finished their training in Spain. Among them, some were picked by soccer clubs in Spain, others came back to China and have been seeing good development as well."
"For soccer, it's better to get trained at a young age. These young soccer players, who were picked at around 12 years old, will probably help China to play in the 2022 World Cup.
"Wanda is having a high strategic position in the sports industry. Once the industry becomes the country's pillar industry, its devotion will definitely pay off," he said.
"So far, China's soccer industry has reached 800 to 900 billion yuan in scale. When taking the lottery industry into account, the total soccer industry could be 1 trillion yuan, accounting for the largest part in the sports industry.
"The whole sports industry in China is also promising. As the most populous country, China has 300 to 400 million people in its middle-income group, double the figure of the United States. This group is the backbone of sports consumption. With support from big companies such as Wanda, the industry will enjoy a bright future," He said.
Apart from soccer, Wanda has also stepped into other areas to promote the development of the whole sports industry. As one of the world's largest sports companies, it is an exclusive business partner with more than 10 world sports organizations, including FIFA and FIBA-the International Basketball Federation.
Wanda operates more than 20 sports events, covering soccer, ice hockey, cycling, basketball and triathlons, among others, in more than 20 countries.
Wanda Sports China is responsible for organizing various sports events in China, including triathlons, the China Cup International Football Championship, the Tour of Guangxi Road Cycling Race, the BMX World Championships and the 2019 FIBA Basketball World Championships.