German autoworkers raise alarm over job losses in electric shift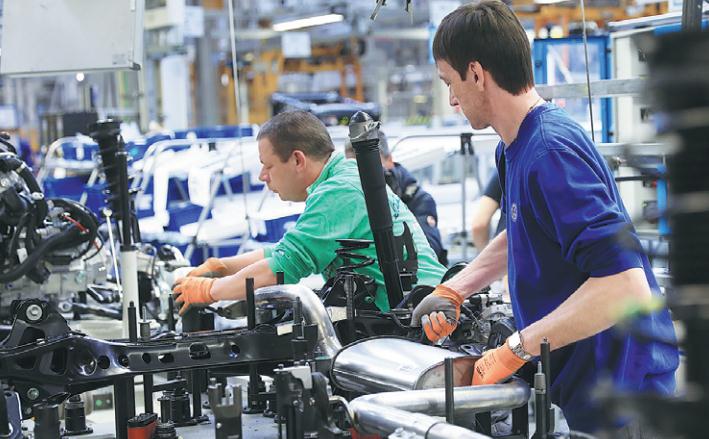 German automotive workers face the threat of massive dislocation over the next 12 years as the industry lurches through a transition to battery-powered cars, putting at risk thousands of jobs at manufacturers from Volkswagen AG to Daimler AG to Robert Bosch GmbH.
Worst hit will be powertrains, according to research released Tuesday by the IG Metall union. Electrification will lessen the importance of combustion engines, an area where German carmakers have built a reputation over decades for quality and engineering prowess.
As many as 75,000 of the existing 210,000 positions working on engines and transmissions will go away by 2030-even as electrification adds 25,000 positions, the union said. IG Metall released the study, conducted by Fraunhofer Institute for Industrial Engineering, along with a plea for employers and government to enact policies that will lessen the blow.
"The challenge is large, but can be mastered if the right framework conditions are created now," IG Metall Chairman Joerg Hofmann said at a press briefing in Frankfurt. "Politicians and companies must now develop strategies to shape this transformation."
Manufacturers have embarked on far-reaching overhauls and costly investments to prepare for accelerating sales growth of electric cars. Demand is being propelled by tightening regulations in China, where VW, Daimler's Mercedes-Benz brand and BMW AG generate a large chunk of revenue and profits. Getting the timing right for the technology shift is vital as global deliveries of battery-powered vehicles are still relatively small, and combustion-engine cars account for the vast majority of profits.
The research presented by IG Metall assumes a baseline scenario that by 2030, a quarter of cars will be fully electric, with plugin hybrids accounting for a 15 percent market share and 60 percent being powered by gasoline or diesel engines that are more fuel-efficient than today.
Regional effects
While the impact on employment seems relatively modest considering the total 840,000 workers in the country's auto industry, the fallout "might still be significant for individual manufacturers or regions," said Oliver Riedel, a Fraunhofer director. "The technology shift might move some jobs outside of Germany," he said.
Electric autos will overtake consumer electronics this year as the largest source of lithium-ion battery demand, Bloomberg New Energy Finance said in a report published Friday.
The anticipated surge to more than 1,500 gigawatt-hours a year by 2030 for electric cars and buses, from 44 GWh last year, will require more investments in battery-cell manufacturing.
That will require a shift toward Asia for powertrain operations that are now combustion-based and centered in Germany.
Volkswagen, the world's largest automaker, has been reviewing options for producing cells for new-technology batteries to tap into a market now largely controlled by Asian manufacturers Samsung SDI Co, Panasonic Corp and LG Chem Ltd.
China's Contemporary Amperex Technology Co, or CATL, has embarked on an aggressive expansion push in the world's largest auto market and abroad that underscores the systems' strategic importance for future vehicles.
Bosch's stance
Bosch, the world's biggest car-parts maker, decided just over three months ago against setting up its own battery-cell production, citing huge costs of some 20 billion euros ($23 billion) to gain a fifth of the global market and ensure sufficient scale.
"I see the job-numbers drop as being much more drastic than described in the study," Bosch works council chief Hartwig Geisel said.
The company is the world's largest supplier of diesel-engine systems, and some 20,000 German jobs hinge on the technology that's come under fire in the wake of VW's emissions-cheating scandal.
Bosch operates diesel-focused factories in economically weaker regions like Saarland or Bavaria's Franconia district that would be particularly hard hit, he said.
Volkswagen is handling the reduction in powertrain jobs by not replacing older workers who leave and retraining employees with IT knowledge as software engineers, said Bernd Osterloh, the carmaker's works council chief.
The number of parts needed for an electric powertrain is about 200, versus about 1,200 components for current conventional engines, and it will take about one-third less time to assemble a car like the VW Golf, he said.
Bloomberg