With auto tariff cuts in China, Europe stands to benefit
Share - WeChat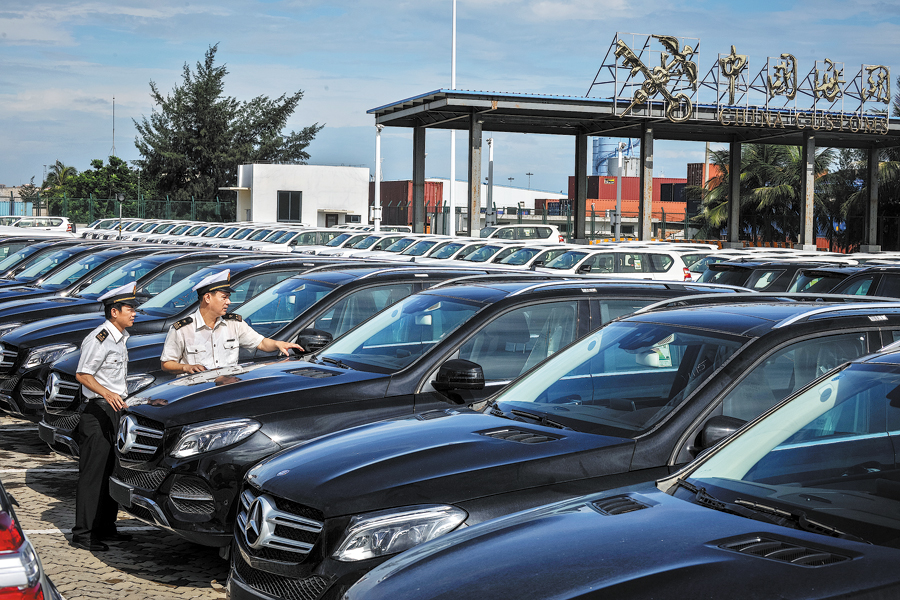 BERLIN - Chinese State Councilor and Foreign Minister Wang Yi on Thursday started his visit to Germany, a trip which will also take him to Brussels for the China-EU high-level strategic dialogue.
The visit came as the world is perplexed by two different approaches to tackle global issues: multilateralism and free trade on one side, unilateralism and protectionism on the other.
While China has decided to cut import tariffs on automobiles and auto parts, part of its opening-up approach aimed at strengthening a rule-based and multilateral global trade system, the United States plans to impose an additional 25 percent tariff on imported vehicles, which would surely harm the auto industry of its European allies should it be realized.
Gift from China
The Chinese Ministry of Finance announced last week that it would cut import tariffs on vehicles and auto parts from July 1.
For cars, the 25 percent tariff levied on 135 items and 20 percent duty on four items will both be cut to 15 percent. Import tariffs on 79 auto parts will all be reduced to 6 percent from the current level of 8-25 percent.
The tariff cuts in the world's largest auto market for nine consecutive years are widely welcomed by industry insiders and economic observers.
"This is another important step for open markets and a sign of strengthening international trade," Bernhard Mattes, president of German Association of the Automotive Industry (VDA), said in a recent statement.
Quoting an industry expert predicting even a "rain of money" for German companies, the German media Sueddeutsche Zeitung said in an article that "So great is China's gift to the German auto industry."
The German Federal Government also welcomed the announced tariff reduction, saying it brings "quite a lot of benefits for our auto industry."
In 2017, German manufacturers produced 4.89 million cars in China, accounting for 30 percent of the total production of German cars worldwide, according to the VDA. China imported over 1.2 million vehicles last year, including some 260,000 from Germany.
Auto market observers estimated that German carmakers BMW, Daimler and the country's largest carmaker Volkswagen (VW) will be the largest beneficiaries of China's move. The lowered tariff could bring BMW 1.2 to 1.75 billion euros ($2.05 billion) in profits before interest and tax, and Daimler 1.1 to 1.65 billion euros ($1.29 to 1.93 billion).
"China is taking first good steps to open up its auto sector," Fredrik Erixon, director of the Brussels-based think tank European Centre for International Political Economy, told Xinhua.
Erixon added that China holds the key to addressing many of the concerns over market distortions in the global economy, and every sign from Beijing to go ahead with market-liberalization reforms will make the global economy safer.
Worries over US tariff hikes
Good news from China were quickly diluted by bad news from the United States. Instructed by US President Donald Trump, the US Commerce Department has initiated an investigation into the national security implications of automobile imports, which could lead to as much as 25 percent of tariffs on automobile imports.
European Commission Vice-President Jyrki Katainen said the possible unilateral raise of auto tariffs by the United States is "difficult to understand," while the German auto industry voiced its worries over the move.
VW said in a statement that "Only free and fair trade can ensure prosperity," and historical experience has showed that "unilateral protectionism will benefit nobody in the long term."
"Evidence of significant economic damage due to the trade conflict is mounting," tweeted economist Marcel Fratzscher, president of the German think tank DIW Berlin. "The Trump administration is now adding new threats with tariffs on European cars which could make things worse."
It is another trade dispute between the United States and its major trading partners in Europe. Earlier this year, Washington threatened to call off a tariff exemption for European steel and aluminum products, and the June 1 deadline is approaching.
Compared with steel and aluminum, the auto industry represents a much larger share in the EU and in Germany. German economic institute Ifo calculated that a hike in US tariffs would be expensive for Germany.
The US approach in trade made German Chancellor Angela Merkel lament on Monday that international agreements and institutions are being weakened while warning against protectionist instincts that might endanger open markets.
"If Trump moves ahead and uses national security to impose tariffs, the world runs the risk of losing a rule-based trade system as every country has the same right under the WTO," Dennis Pamlin, founder of Sweden-based consultancy 21st Century Frontiers, told Xinhua.
China opening up to world
The two contradictory approaches of China and the United States have made some Europeans reconsider trans-Atlantic and EU-China relations.
During Merkel's visit to China last Thursday and Friday, she was told in Beijing that China is willing to work with Europe to advocate multilateralism.
Advocating multilateralism is among Wang's missions. The Chinese official will meet German Federal President Frank-Walter Steinmeier and Foreign Minister Heiko Maas during his visit to Germany.
The tariff cut for imported autos is a boost for multilateralism. "China safeguards a multilateral trade system. Lowering auto import tariffs is a major step to expanding reform and opening-up," Wang said.
The tariff cut came after China unveiled a plan last month to phase out equity caps for automotive joint ventures in the world's largest car market amid a broader push for further opening up.
Margot Schueller, an expert from German Institute for Global and Area Studies, told Deutsche Welle that the move should be seen as a sign that China wants to lower overall trade barriers. Phasing out equity caps signals further progress in market access and the removal of market barriers, Schueller added.
This year marks the 40th anniversary of China's reform and opening-up policy and the country is now at a new historical starting point. The future of high-quality development in China's economy can only be achieved with greater openness.
A beneficiary of economic globalization, China has embraced free trade and opened its market wider. By 2010, China had fulfilled its tariff-cutting promises for WTO membership by slashing overall tariff levels from 15.3 percent to 9.8 percent.
Holding a common position on free trade, China and the EU can work closer to safeguard a rule-based global trade system and guard against the threat of rising protectionism. Some experts believe that the two sides can do more.
"It is only free trade and a positive trade balance that enable countries like China, Japan and Germany to build currency reserves which they then can re-invest in the US -- and finance the superpower's debt," said Josef Braml from the German Society for Foreign Policy. "Henceforth, both China and Europe do have leverage to influence Trump's trade decisions."