Winning fans of Chinese jewelry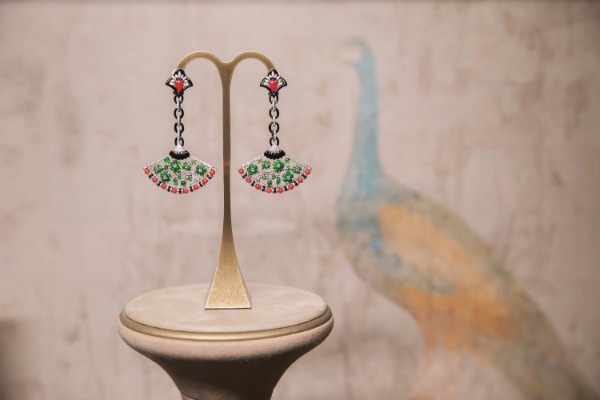 Airs of Virtue, for instance, is a nod to the etymology of the folding fan, and the earrings have adopted the shape of one, while the pattern and colors take their cues from the traditions of Chinese landscape painting and plum blossom, which is the Chinese national flower.
Plumage, perhaps unsurprisingly, takes its cues from the peacock feather fan and its 2,000 years of history.
However, rather than simply replicating the shape of a feather fan, designers studied a large number of ancient Chinese paintings in order to reveal the lightness and charm of the feather, from the beauty and lines of each barb, vane and rachis, to the overall structure.
Sitting in the living room of her studio in Beijing, Charlene Li Xiaoling, the founder of Charlene Classic, points at the meticulous Chinese painting and the Western oil painting hanging on opposite walls.
She talks about her understanding of the two different styles, "Oil painting is formed by thick strokes and swatches with strong visual impact, while Chinese painting requires a more detailed grasp of lines." An ethos that has helped shape her jewelry brand and its relative success.
Established in 2013, Li confesses that Charlene Classic did not really have a clear direction until around 2016, and when it did finally happen, it was not consciously, but she was simply following her instinct and aesthetic appreciation.