P&G strives to stay in sync with consumers' changing needs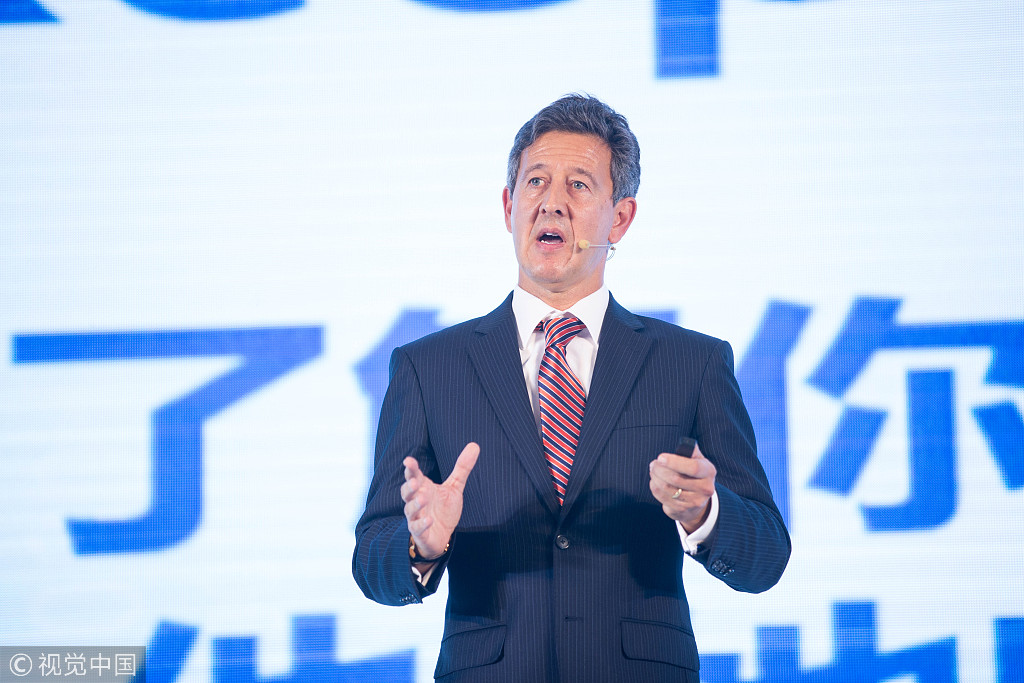 Editor's Note: This year marks the 40th anniversary of China's reform and opening-up. China Daily interviewed top executives of well-known multinational companies for their views on the country's socioeconomic development.
Please use three words to describe China's changes in the past 40 years.
Unprecedented, leapfrog and prosperity.
What are the biggest achievements in China since the introduction of the reform and opening-up policy 40 years ago?
The remarkable and sustained high speed of economic growth-the economic growth rate of China from 1978 to 2018 was the fastest of any major economy in human history.
The dramatic upgrading of people's standard of living, the growth of the middle class as well as the decrease of poverty-more than 700 million Chinese people have been lifted out of poverty since 1978.
Digitalization and technological advancements across a variety of areas including e-commerce, mobile payments and the sharing economy.
How has your company benefited from the reform and opening-up policy?
P&G China is fortunate to have had the opportunity to grow together with China. This year, China celebrates 40 years of reform and opening-up. P&G China celebrates its 30th year. Being here in the Chinese mainland for the past 30 years-that is the biggest proof of benefiting from China's reform and opening-up.
The reform and opening-up policies encourage innovation, and they significantly raised the awareness of the need to protect intellectual property. P&G has built up its innovation capacity in China and has been able to build its brands under an increasingly transparent regulatory environment and strengthened enforcement. These allowed us to offer Chinese consumers quality products and services.
P&G began with a joint venture set up in 1988 to provide the best quality products for Chinese consumers. At the onset, we brought our best global technologies to China. As we learned more about Chinese consumer needs, we began adapting our products to meet local needs and preferences. This approach sustained our business for many years, but the rapid growth of the Chinese economy has brought about tremendous changes in the habits of Chinese consumers. We are now designing our products and innovations specifically with the most discerning Chinese consumer in mind-innovating specifically for China. With the success we are seeing in China, we are now moving to the next phase of our journey-exporting the best innovations designed from China to the rest of the world.
The reforms and policies allowed P&G to nurture a talented homegrown team in China to develop and sustain its business growth. These talents are not only building P&G business in China, but also supporting other parts of the world.
How do you view China's role in the world today?
China is clearly on its way to leading the world on many fronts, including economically and technologically. It is already shaping the future of the world in many ways, and will continue to do so.
For P&G, China is our most important market internationally. And P&G China is leading our whole company in many ways, including e-commerce, the use of technology in brand-building, our go-to-market and business operations.
Could China's experiences and practices be used to solve global problems?
Definitely, yes. The lessons from China's experience and practices have brought and will continue to bring positive influence to the world in many aspects.
Special mention should be made on the development of e-commerce. China is now the largest, as well as the most advanced e-commerce market. I believe all e-commerce partners in China are showing the world how this can be done. For instance, the country has created the biggest shopping day in the world, Double 11. And along with this, there are physical and digital infrastructures to support this.
Chinese talents are among the smartest, most innovative, most entrepreneurial and most diligent in the world. We are privileged to be able to attract these top talents and provide them with interesting and challenging work, global top-tier training and a healthy working environment, and help groom them into world-class business leaders.
P&G China businesses are now 98 percent run by Chinese talents. Other than this, P&G China is called "Huangpu Military Academy" by peer companies and in the business world. We are happy to see that many P&G alumni are now also playing leading roles in other companies including Chinese domestic firms.
What measures are needed if China wants to deepen reforms?
We expect that the Chinese government will continue to offer a fair and transparent market with further opening of its policies.
Reinforce the protection of intellectual property and crack down on fake products.
Enhance the support of foreign enterprises and involve us further in China's development.
Has competition intensified between your company and Chinese companies?
We look at competition positively and believe healthy competition is good for consumers. It gives consumers more choice and it helps bring a better quality of life for all. We have the highest respect for our competitors, global and local.
Competition reminds us never to lose sight of our purpose of winning consumers' hearts and minds with products and services of superior quality and value. We always begin with the consumers in mind, and strive to be in sync with their growing and changing needs. We stay close to understanding the Chinese consumer needs, articulated and unarticulated, and discovering insights that can turn into product and communications ideas. We are investing more into innovation, which is one of our competitive advantages. We have more than 700 scientists and researchers at our Beijing innovation center focused on innovating for Chinese consumers.
What is the most unforgettable experience you have had in China?
The most unforgettable experience is how digitization has enabled our everyday lives. For instance, friends and family who have not worked and lived in China are often in awe when I tell them about mobile payments. You really don't need your wallet or credit cards these days. All you need is your mobile phone. Payments can be made via Alipay or WeChat in virtually every kind of store, even in the smaller towns. This is unthinkable for many people in Western countries.
Apart from economic development, what progress in other fields have you witnessed in China in the past 40 years?
Technology and digitalization-China has now truly moved to a situation where we are leading the world in this area. For instance, China now has world-leading high-speed railway, aerospace technology and 3-D printing. China is on the forefront of using digitalization to enable better lives in fields such as e-commerce, e-payments and bicycle sharing. I have not seen anything like this.
Education-China is paying more attention to quality-oriented education these years with open policies and advanced concepts that care more about children's all-round development. P&G has witnessed great changes in education in rural areas in China with our 22-year-old Project Hope School program. We have moved from just providing material support to now providing spiritual support for our children and teachers. We have also moved from one-way support to mutual communication, giving our children the right to participate. We will continue to explore and do our best to ensure that children in rural areas are not disadvantaged in terms of quality of education vs their urban counterparts.
What will be the country's "calling card" in the coming years?
Beautiful China. Beautiful Life.
CV
Name: Matthew Price
Nationality: United Kingdom
Career:
2015 onward: President, P&G China
2010-15: Vice-president, Baby Care, Western Europe and India, Middle East and Africa
2005-10: Vice-president, Baby Care, Eastern Europe
2004-05: Vice-president, Baby Care, Balkans
2001-04: General manager, Baby Care, Balkans
1998-2001: Marketing director, Always, Pampers, Central and Eastern Europe
1995-98: Marketing director, Always, Pampers, Greece
1994-95: Marketing manager, Hair Care, UK
1993-94: Brand manager, Hair Care, UK
Education:
Bachelor's degree in economics from York University, UK
Family:
Married with twin boys