Haidilao to raise funds via HK float
Share - WeChat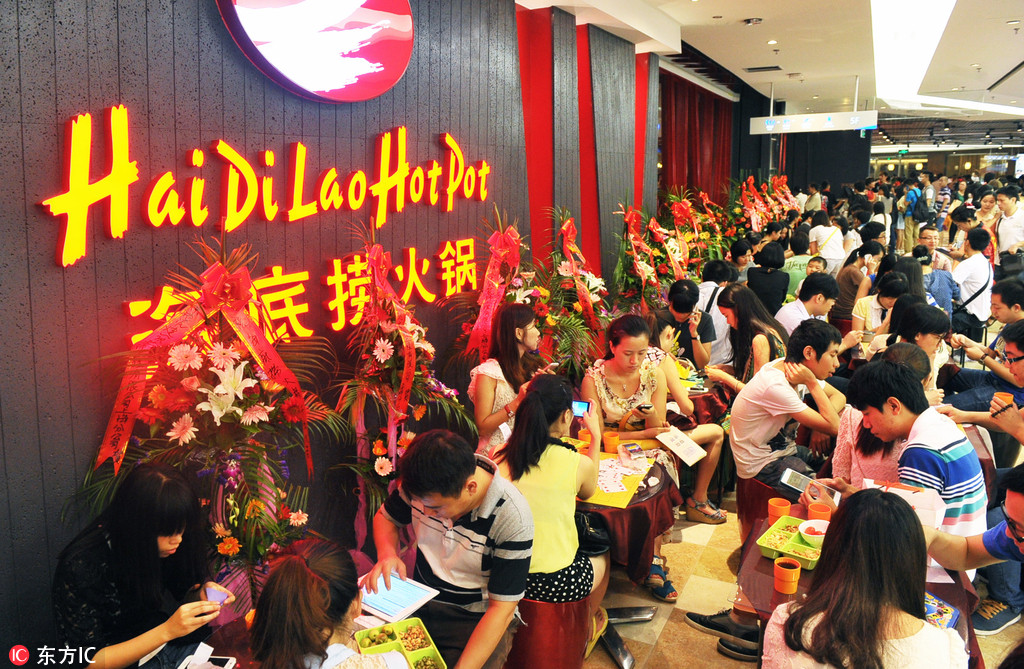 Chinese mainland's hotpot restaurant chain Sichuan Haidilao Catering Co Ltd has filed an application to list in Hong Kong after a profitable 2017.
The past year has been one of fast expansion for Haidilao. According to the prospectus it submitted to the Hong Kong Stock Exchange on Thursday, the restaurant chain saw 10.6 billion yuan ($1.66 billion) in revenue in 2017, almost doubling year-on-year. Its net profit reached 1.19 billion yuan, up 36.2 percent from 2016.
The company did not disclose the amount it aims to raise from the IPO.
Haidilao is best known among mainland consumers for its high-quality service, including staging performances of tableside handmade noodle dances, offering free manicures, providing giant teddy bear partners for solo diners, and even hosting feline-themed parties for new cat owners.
There are now 273 Haidilao restaurants nationwide, more than double the number in 2015. Among those, 65 are located in first-tier cities, generating about 3 billion yuan in revenue in 2017. The company's 120 restaurants in second-tier cities contributed half of its annual revenue.
As the first hotpot brand to offer takeout options, its takeout business contributed 200 million yuan in revenue in 2017.
Haidilao's IPO prospectus said it will soon have 320 restaurants if its application is approved. The company said it aims to open about 200 more restaurants by the end of 2018 and is eyeing new markets in third-tier cities and abroad.
"Hotpot has always been a unique part of Chinese culinary culture and an important business in the market, as it accounts for 11 percent of the food and beverage market," said Neil Wang, president of Frost & Sullivan China. "The revenues generated in the industry have grown from 224.2 billion yuan in 2011 to 395.5 billion yuan in 2016. We believe it will top 628.2 billion yuan by 2021."
There are currently two hotpot-related mainland companies listed on the Hong Kong Stock Exchange - Xiabu Xiabu Catering Management Co Ltd, a Beijing-based chain known for cheap and quick meals, and Yihai International Holding Ltd, the soup-base provider for Haidilao.
"Getting listed will provide Haidilao with strong support in finance, branding and building a complete supply chain," said Zhu Danpeng, researcher at the China Brand Research Institute. "But as a restaurant chain, food safety is the top priority, and Haidilao needs to work harder on that in the future."
Last year, Haidilao encountered a major public relations crisis after rats were found in its kitchens.