Hotpot finds sweet spot
Share - WeChat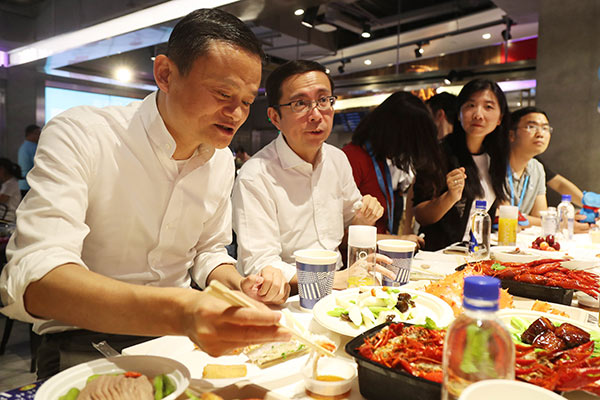 Jack Ma, the founder of Alibaba, savors the king crab he ordered at Hema Xiansheng, an emerging online-to-offline supermarket backed by Alibaba, in Shanghai in July.[Provided to China Daily]
Haidilao Hotpot, the restaurant chain that leads the hotpot catering market in China, launched an instant variety of its famous offering last quarter. The new variety cooks in 15 minutes and is priced 35.90 yuan ($5.42).
At Haidilao restaurants, a traditional hotpot meal is served for about 150 yuan on average and takes at least 30 minutes to materialize on the table after a customer places the order.
The instant variety pack contains hotpot sauce, soup, and other ingredients. A consumer merely needs to add near-boiling water to the stuff.
On Haidilao's online store on the Tmall marketplace, more than 57,000 consumers buy its popular spicy beef flavor instant hotpot every month.
The product is the result of a joint investment of 50 million yuan ($7.6 million) by Haidilao and Xinpai Shanghai, a restaurant chain based in Shanghai, to manufacture and sell instant hotpot.
Zhu Danpeng, a researcher with the China Brand Institute of Food and Beverage, said: "the production technology for instant hotpot is relatively easy, and is designed to please young consumers."
Haidilao's push into instant foods has inspired China's traditional hotpot caterers to follow suit. They have launched various flavors with matching ingredients, all of which are now sold online as well as offline (at retail outlets)-a new business model called New Retail.
Such business expansion moves come in the wake of the rising popularity of takeouts and food delivery apps in China.
Traditional restaurants are feeling compelled to branch out into retail, particularly in segments like packaged food and ready-to-eat food, to retain access to consumers. In doing so, they are overcoming physical space limits.
In another twist to the tale, retailers such as supermarkets are adding in-store dining services to allow consumers to buy and eat on their premises processed food and food cooked in their in-house kitchen. The idea is to increase fresh food sales.
For instance, the Lianxiangqiao store of Wumart Stores Inc in Bejing offers cooked seafood for its customers.
Similarly, Hema Xiansheng, the emerging online-to-offline or O2O supermarket operated by Alibaba, is a combination of supermarket, grocery store and restaurant, which allows its customers to buy online or offline.
Last year, it opened its first offline store in Shanghai and quickly expanded to a 12-store chain spanning Shanghai, Beijing and Ningbo.
Another example is Yonghui Superstores of Yonghui Super Species chain. It caters to middle-class consumers by combining supermarkets, catering and mobile app to provide a New Retail experience.
Yonghui Superstores has plans to open more than 100 stores next year.
Most of the leading retailers have adopted a more aggressive O2O strategy, according to Kantar Worldpanel China, a market research firm.