Good restaurant service no excuse for compromising kitchen rules
Share - WeChat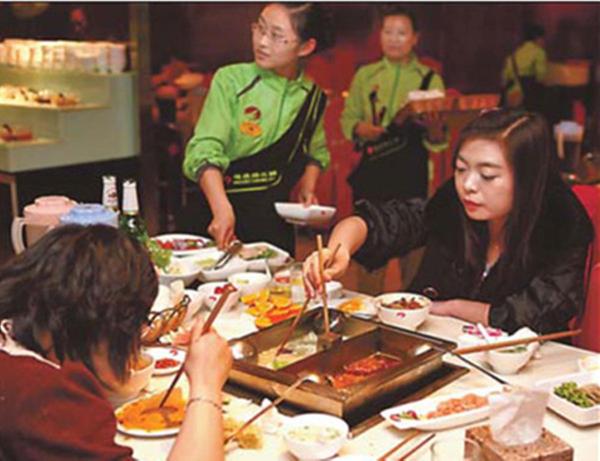 Customers at Haidilao hoypot restaurant. Zou Hong / China Daily
TWO OUTLETS OF THE hot pot chain Haidilao in Beijing have been shut down after media reports said mice were seen running on their kitchen floor and the tableware was dumped in a dirty sink with dustpans. Thepaper.cn commented on Saturday:
Haidilao responded within hours of the publication of the reports and offered a detailed plan to take corrective measures. Rather than making the kitchen staff the scapegoat, it said the management would take the bulk of the responsibility-an exemplary PR attempt to win hearts.
But to many who have almost unconditional faith in the hot pot chain, the exposure of compromised kitchen conditions comes as a rude shock. The hot pot catering company is more often known for its over-considerate service than its food. Female customers waiting to get a table could be offered a free manicure, and those who forget to carry an umbrella on a rainy day may have a taxi waiting for them before they leave.
Such anecdotes have branded Haidilao as a caring company that always puts customers' well-being before anything. Haidilao's proper, timely response to the dirty kitchen reports is praiseworthy, but it makes little difference to the fact that like many underground food vendors, the hot pot "giant", too, has dirty kitchens and careless kitchen staff who refuse to follow sanitary rules.
Contrary to popular perception, Haidilao's catering service is far from being "impeccable". Online promotion has become a common practice among many restaurants and food stores, which go to great lengths to lure potential customers and maintain the regular ones. They do not shy away even from questionable stunts-from hiring people to queue to paying for the endorsement of online opinion leaders-while paying little attention to the sanitary condition.
So the Haidilao management should draw a lesson from the busting of its service myth and take measures to ensure the kitchen and hygiene rules are fully implemented.
Most Viewed in 24 Hours
China Views