Return of stability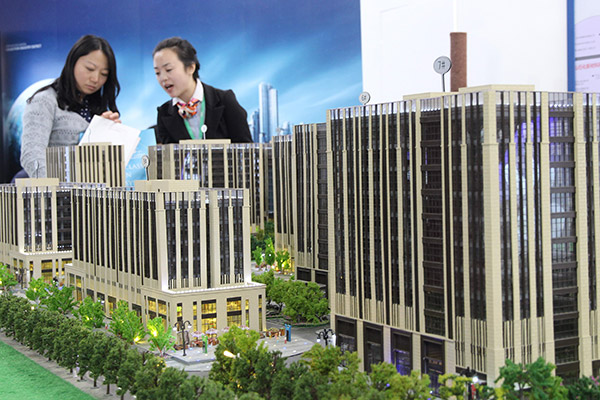 Residential property gathers speed in lower-tier cities even as metros withstand curbs, higher prices
China's lower-tier cities are stealing the residential property market thunder from bigger places as home prices continue to rise, thanks to fewer restrictions on purchases there.
But realty industry experts said first-tier cities, which have seen curbs to prevent overheating amid speculative investments, will stay resilient and stable in the longer term.
Contracts were struck online for some 360 apartments in first-tier cities during the first two days of the May Day holiday. The figure more than halved year-on-year, according to data from property consultancy Centaline.
Yet, the housing market in major cities saw steady performance in March and April. But the transaction volume has not returned to peak days seen before policy-tightening late last year, said Zhang Dawei, chief analyst at Centaline Property Agency Ltd.
According to data from the National Bureau of Statistics, prices of new homes in top-tier cities edged down 0.6 percent year-on-year in March; while in the secondary market, residential property prices slid 0.1 percent from a year ago, the first such drop in recent years.
Liu Jianwei, a senior statistician at the NBS, attributed the return of stability in the residential property market to measures by local governments as well as the continuity in the provincial-level housing policies.
The macro-level policies that took effect in the past year have been effective, and home prices in first-tier cities will be stable throughout this year, said Zhou Jing, head of project sales, JLL Shanghai, an international real estate consultancy.
"First-tier cities were some of the earliest to implement (market-) cooling measures and continue to have some of the toughest restrictions, while also having some of the highest prices," said James Macdonald, senior director of Savills China research, another international real estate consultancy.
A report from the Shanghai University of Finance and Economics or SUFE had a similar conclusion, suggesting both new homes and pre-owned residential properties are showing a downward trend, the China Youth Daily reported.
By analyzing NBS data on China's major 70 cities between the second half of 2017 and February this year, the SUFE report found that these cities' new home prices' growth rate declined significantly from the first half of 2017, and most of the growth was contributed by second-and third-tier cities.
Sales revenue growth of new homes in first-tier cities also slumped from nearly 20 percent in the first quarter of 2017 to a decline of 1 percent in the first quarter of this year.
According to Macdonald, factors like tough restrictions on home purchases and high home prices will continue to weigh upon these markets.
"Weak volumes and softer pricing does not necessarily represent a lack of demand but an inability to convert that demand into a sales transaction. Markets remain generally stable and the future direction will be largely determined by changes to existing policy frameworks as well as monetary policy," he said.
Prices and transaction volumes of pre-owned homes in both Beijing and Shanghai declined. In the capital, an average home transaction took 30-odd days in April 2017 but extended to nearly 80 days in February, with homes traded at a lower price level than that of January 2017.
In Shanghai, 492,900 square meters of newly built homes were traded in March this year, up 143 percent from February, the month of weeklong Spring Festival, but dropped 31 percent from a year ago, according to Chinese residential property agency Shanghai Lianjia.
Although the transaction volume in Shanghai's new home market was approaching a six-month high, this is still the lowest transaction volume for March since 2012, Shanghai Lianjia said.
"We project new home trading in Shanghai in 2018 will outperform the previous year, and the increase in new supply is the main driver," said Zhou Jing, head of project sales, JLL Shanghai.
Zhou said demand contained in 2017 will be released somewhat as there are quite a few new residential projects that will likely boost supply this year.
The cooling of first-tier cities' home market was attributed to a string of factors, including the tightening policies on home-buying, loan requirements, and the increase in land supply since the second quarter of last year, said the SUFE report.
Despite a 142-percent month-on-month increase in sales volume of pre-owned apartments in March to 17,370 units, the figure remains the lowest in six years for March, and 7.06 percent lower than that of last year, according to a research report from the Shanghai Existing Property Index Office.
"We observed pre-owned home prices have started to soften, and the wait-and-watch attitude of homebuyers gave them more room for bargaining," said Zhou.
In South China, Shenzhen saw its new home prices drop for seven months in a row, ranking first in the 70 major Chinese cities with a 2.3-percent decline in March, NBS data showed.
There is a piece of good news for senior homebuyers as Industrial and Commercial Bank of China confirmed that it has extended the age limit for personal property loan borrowers to 70 from 65. The policy took effect in the last week of April, China National Radio reported.
According to the new policy, a home loan applicant aged 60 can apply for a 15-year mortgage; those aged 55 can apply for a 20-year mortgage, which is "really good news for senior homebuyers," said a staff member dealing with home loans at ICBC's Chongqing branch, CNR reported.
Meanwhile, starting from the third quarter of last year, many commercial banks have tightened their home loan policies with more restrictions being put on home loan applications and applicants.
According to Zhou from JLL, some banks have extended approval period for loan applications from a minimum of one week before to at least one to two months last year. She expected the loan application process to become more smooth with more policy clarity expected to emerge this year compared to a year ago.
A net 400 billion yuan ($63.32 billion) was released in late April from the central bank's reserve of commercial banks' deposits, with another freeing of 900 billion yuan set to erase lenders' liability to the central bank through the Medium-term Lending Facility or MLF.
This monetary policy operation, or a reduction of the reserve requirement ratio or RRR by 1 percentage point but in an innovative way, is expected to supplement liquidity especially for small and medium-sized banks without making overall monetary policy too loose, according to experts.
"The reduction in RRR was to offset the impact of the tightening of interbank lending making sure small banks have enough liquidity. This is in keeping with the general financial de-risking that is taking place and will unlikely have a significant impact on the property market," said Macdonald.
Zhou agreed with the projection, adding that the loan environment will be tightened further nationwide this year compared to a year ago, and it will further affect total transaction volume of the home market.
Regarding the ongoing trade friction between China and the United States, Macdonald said the property market is unlikely to see any significant direct impact. But he also said, "It could impact business revenues and profitability. Therefore, it may encourage companies that might be affected to take action".
According to Macdonald, possible results include holding off on large investments, such as relocation offices and the associated fit-out costs, taking on additional operational costs such as new headcount (meaning less office expansion requirements), reducing costs by potentially looking at decentralized locations if they need to relocate, as well as seeking more flexible accommodation options such as co-working or serviced offices.
"If you look at the first-tier cities as a whole, monthly price changes were positive (that is, there was growth) in both first- and second-hand markets, and individual cities might have recorded minor declines."
All in all, the residential property sector in Chinese big cities will remain resilient as China's economy as a whole will continue to be positive, said experts.
Since third- and fourth-tier cities are taking the heat of home price growth, the SUFE report projected that home prices in first-tier cities will likely stabilize throughout 2018.