China helps developers finance home rental projects
Share - WeChat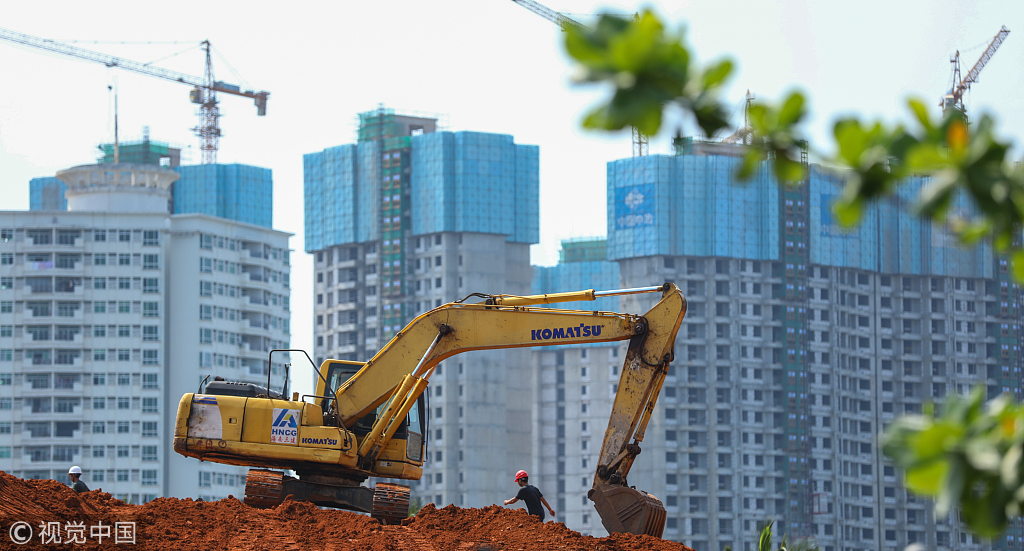 BEIJING - China has moved to support the issuance of rental properties-backed securities to help finance a burgeoning rental housing market, a crucial part of its planned policy package that aims to stabilize the real estate sector.
The real estate investment trust (REIT), a means of property asset securitization, will be piloted for developers to raise funds, according to a document of the Ministry of Housing and Urban-Rural Development and China Securities Regulatory Commission.
The program will enable companies to reduce their leverage ratio and diversify investment options. Large and mid-tier cities, the Xiongan New Area and some other cities will be the first to get the green light under the pilot program.
It is the latest move in a government-led campaign to foster the home rental market as part of a long-term solution to an overheated real estate market.
Developers have been encouraged to launch rental-only projects but many have hesitated, afraid of an unaffordable impact on their capital chain. While monthly-paid rents are far from enough to replenish cash flows, one-off payment plans are unattractive to tenants.
China Vanke, one of the country's top property developers, has drawn discontent as the minimum rent of its long-term leasing apartments still under construction in Beijing are reported to be triple the district average.
The project is designed to offer over 1,000 rental housing units in 2020, with the rent for a three-room apartment of 90 square meters set at 15,000 yuan (around $2,370) to 18,000 yuan a month.
Analysts believe government support of property asset securitization like the REIT will ease developer concerns over cash flow and significantly widen financing channels for the rental market.
"More businesses will be motivated to build up presence in the home rental market," said Zhang Dawei, a Centaline Property analyst.
Funds raised through rental properties-backed securities totaled more than 50 billion yuan by March, and will likely grow more rapidly with the new favorable policies.
For a long time, soaring property prices have put urban residents under pressure, making housing affordability a growing problem for policy makers. Now the government wants to further tap the rental market to stabilize home prices and curb speculation, moving to provide tenants with the same public services that owners enjoy to encourage more people to rent rather than buy.
Beijing municipal government has published a pro-rental policy that will guarantee the education rights of tenants' children.
With more favorable polices in the pipeline, the home rental market boasts huge potential. The number of Chinese who rent will amount to nearly 300 million people in 2030, up from the 190 million at present, and total rents will more than quadruple to 4.6 trillion yuan, according to a report of Guanghua School of Management with Peking University.
A robust rental market will "avert drastic ups and downs in the property market and reduce irrational demand," said Zhang, the analyst with Centaline Property.
Partly by promoting home-leasing, the government is working on a long-term mechanism for property regulation that will ensure sustainable and steady development of the real estate market, which have stayed tame largely due to provisional purchase restrictions. Hainan in south China, the country's youngest province, on Sunday imposed tougher rules to frustrate speculation.
New house prices in the first-tier cities declined 0.6 percent year-on-year last month, while prices of existing houses inched down 0.1 percent, data from the National Bureau of Statistics (NBS) showed. The property market in the second-tier cities also saw slower price growth.
"Housing prices were generally stable as market controls have continued to take effect," said NBS statistician Liu Jianwei.
Apart from home-leasing, analysts expect government long-term regulations to include enough affordable housing for low and middle income residents, a reasonable land supply, a basket of land-related reforms, and a new tax on home ownership.
"China will not waver in its efforts to implement property market regulation and will maintain continuity and stability of policies in 2018," said Wang Menghui, minister of Housing and Urban-Rural Development.