Manufacturers dominate top 100 valuable brands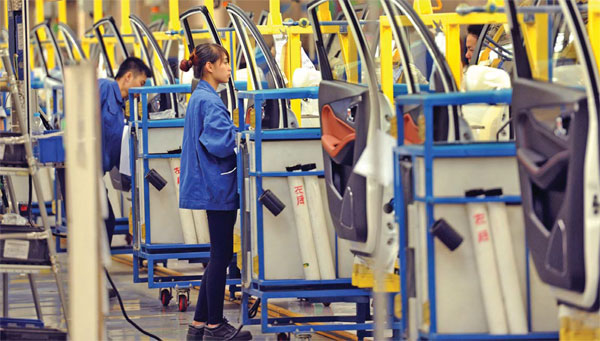 Companies involved in manufacturing claimed more than half of China's top 100 valuable brands, according to a survey released on Wednesday, indicating the strong momentum fueled by a slew of policies to bolster and upgrade the sector.
Eight out of the top 20 Chinese brands fall into the category of manufacturing, according to the Bund Ranking-Top 100 Most Valuable Chinese Brands, a local list compiled by Fudan University's School of Management and the Shanghai Institute of Corporate Culture and Brand, a nonprofit organization.
SAIC Motor Corp Ltd, Huawei Technologies Co Ltd and household appliance maker Midea Group Co Ltd are among awardees in the manufacturing sector, according to the ranking that entered its second year, with 13 manufacturers becoming new entrants to the list.
"The results reflect that the government's efforts to uphold the development of the real economy are starting to pay off," said Jiang Qingyun, a marketing professor at the School of Management at Fudan University.
The calculation of brand value factors in a company's profitability and spending on research and development, as well as the synergies between R&D and marketing, Jiang noted.
The ranking utilizes public disclosures from more than 16,000 enterprises listed on bourses across the Chinese mainland, Hong Kong and New York. It excludes companies in the financial sector as they require different arithmetic models incurred by the varying nature of the business.
Technology, media and telecommunications is still the most eye-catching sector, securing six spots among the top 10 players. Alibaba was rated second on the chart, thanks to its dynamic business portfolio that ranges from e-commerce and financial services to logistics and cloud computing.
Enterprises dealing with commodities are largely dragged down by fluctuating raw material prices. Real estate is also losing luster, with top-performing property developer China Vanke Co Ltd taking only the 15th spot.
The city of Shanghai has implemented a three-year action plan to become a world leading manufacturing hub by 2020. The metropolis aims to establish two world-class industrial clusters and have added value of strategic emerging industry to account for more than 20 percent of its GDP.