Shifting gears
Share - WeChat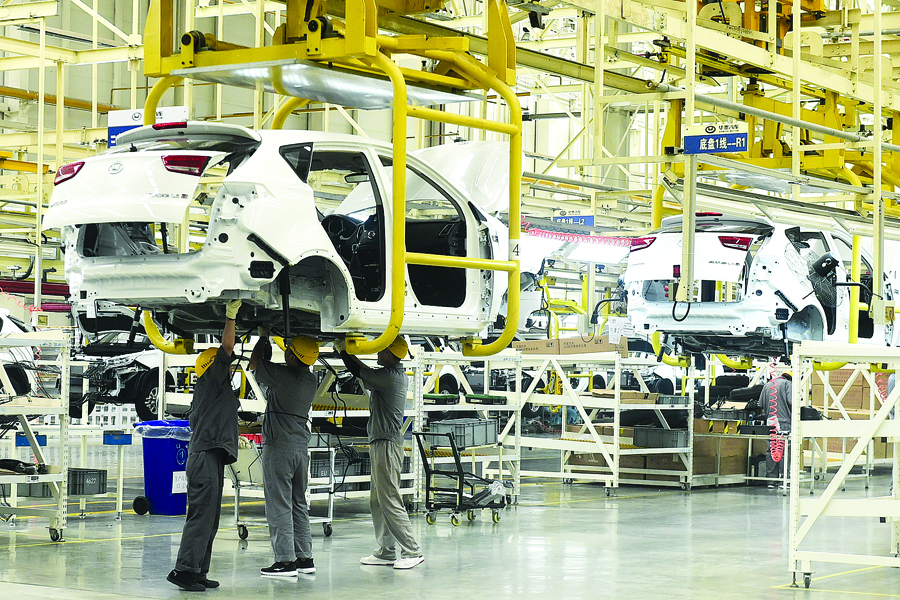 Global carmakers stand to gain from China's plan to lift foreign ownership limits, further opening the industry
China's announcement that it will scrap foreign ownership caps on local auto companies by 2022 and remove restrictions on new-energy vehicle ventures this year is expected to be a game changer for the industry.
Under existing rules, foreign automakers can only operate in China in a 50:50 joint venture with a local partner. This forces carmakers to not only share profits in what is now the world's largest car market, but, in some cases, share expertise as well.
One company that stands to gain from the expected changes is Tesla. The Silicon Valley-based electric vehicle maker has been trying to establish a wholly owned plant in Shanghai for nearly four years.
Analysts say going solo could help Tesla maximize profits in China''s booming EV market, which is set to grow as the country phases out internal combustion engines.
"China's full opening of the manufacturing industry is a clear indication of our opposition to trade and investment protectionism, and shows our clear support to widening and deepening the development of economic globalization," the National Development and Reform Commission said in the announcement on April 17.
"Through the full liberalization of the manufacturing industry, we will support Chinese and foreign companies in achieving common development on a level playing field," it added.
The NDRC said it hoped the liberalizations would encourage greater exchanges of capital, technology, management and personnel between Chinese and foreign firms.
In his keynote address on April 10 to the Boao Forum for Asia Annual Conference, in South China's Hainan province, President Xi Jinping announced plans for the auto industry, including cuts to import tariffs on foreign cars.
Xi described the moves as part of a "new phase of opening up" the Chinese economy.
The NDRC announcement said restrictions on foreign ownership in the shipbuilding industry would also be scrapped this year along with curbs on foreign ownership of aircraft-manufacturing firms, including those that make wide-body commercial airliners, regional jets, helicopters, drones and blimps.
"To loosen the restrictions on foreign capital and products is an inevitable step toward marketization," said Aaron Guo, associate director of research at global research and marketing firm Mintel.
Guo told China Daily that cutting China's current 25 percent import tariff on cars will mean that overseas automakers, especially luxury brands, can compete in the Chinese mainland market with lower price tags.
While welcoming the cuts, he pointed out that imported cars also carry "multiple" other taxes, such as a 17 percent value-added tax and a 10 percent car purchase tax.
"The perceived benefit of the reduced tariff will not be strong enough to have a huge impact on the sales of imported cars, especially for those car buyers who have decided to choose a luxury brand anyway," Guo said.
"Nonetheless, the pressure will be felt by the domestic joint ventures, given that they will also need to reduce the price to remain competitive."
Just how that plays out remains to be seen, but Guo said foreign companies are "keen to seek a larger control of the JVs, so that they can introduce more high-end technologies and perform better quality controls".
"This will allow the domestic production of top-tier vehicles," he said.
Guo added that the impact of the policy changes on local car manufacturers will be limited, as their "products are not competing against imported ones directly".
"In fact, they will benefit from a more open market, since it will attract more high-quality vendors that will support the development of the industry in the long term," he said.
James Chao, managing director of the Asia-Pacific automotive sector with global information company IHS Markit, said China's reduction in tariffs would affect automakers that currently import all or nearly all their volume from the United States, such as Lincoln and Tesla.
But with the relaxation of JV restrictions, these companies could set up production in China on their own, he said.
According to the China Automobile Dealers Association, China imported 17,000 Tesla vehicles last year, up 51 percent on 2016.
Analysts say the action on joint ownership of companies is significant because, until now, the rules have limited carmakers' appetite for investing in China.
China sold 24.2 million vehicles in 2017 — four times the number just 10 years ago. The US, the next biggest market, had 17.3 million sales.
China's EV market is burgeoning as the country works to tackle its pollution problems. This has led to the Beijing government offering incentives to encourage investment in and development of zero-emission EVs.
"China's door of opening-up will not be closed and will only open wider," Xi told the recent Boao Forum for Asia.
Xi promised Beijing will "significantly lower" tariffs on auto imports this year and will relax foreign ownership limits on JVs with local car companies. Both pledges were initially made in November.
The president's remarks soothed escalating fears of a trade war, three weeks after China threatened to double import tariffs on automobiles in response to US President Donald Trump's proposal to impose duties on a range of products from China and other countries.
Most of the cars sold in China by Volkswagen and General Motors are locally produced. GM and its local JVs sold more than 4 million cars in China last year.
Analysts say China is critical to global automakers.
Chinese sales of US-made vehicles totaled 266,657 in 2017, according to research firm LMC Automotive, representing less than 1 percent of the world's largest automotive market.
Jeff Schuster, an analyst at LMC Automotive, said China's moves could "facilitate an environment of investment and maximize efficiencies" for US auto plants.
The biggest winners could be German automakers — such as BMW, and Mercedes-Benz maker Daimler — that build vehicles in the US for export to China, analysts said.
BMW shipped 106,971 vehicles from the US to China in 2017, while Mercedes sent 71,198, according to LMC.
Ford Motor was the third largest US-to-China exporter with a total of 45,145 vehicles in 2017, according to LMC. Fiat Chrysler came fourth at 16,545 and Tesla fifth at 14,779. Tesla makes all of its vehicles at its plant in California.
The business case for a vehicle export strategy would get a boost from the shift in the Chinese tariff policy, although it would still be more cost effective to build vehicles in China to avoid overseas shipping costs.
Most vehicles sold in China are built in the country. GM, Ford and other automakers have JVs established with Chinese automakers.
GM, the leading foreign manufacturer in China by sales, said in a statement on April 17 that it sees no change in its plans and is not eager to buy out its partner — the State-owned Shanghai Automotive Industry Corporation.
"GM's growth in China is a result of working with our trusted joint venture partners," the statement said. "We will continue to work with our partners to provide high-quality products and services to consumers."
Ford echoed similar sentiments saying it was encouraged by the announcement from the NDRC, "which is a clear demonstration of the Chinese government's commitment to further open the automotive industry".
"We will continue to monitor developments and look forward to learning more."
Volkswagen also said in a statement it was committed to continuing its JVs, but that it would explore whether new opportunities were possible. The German company has been making ambitious plans to build EVs in China, and only has a loose and temporary JV with Anhui Jianghuai Automobile Group to do so.
karlwilson@chinadailyapac.com