Starbucks brews up success in Yunnan
Share - WeChat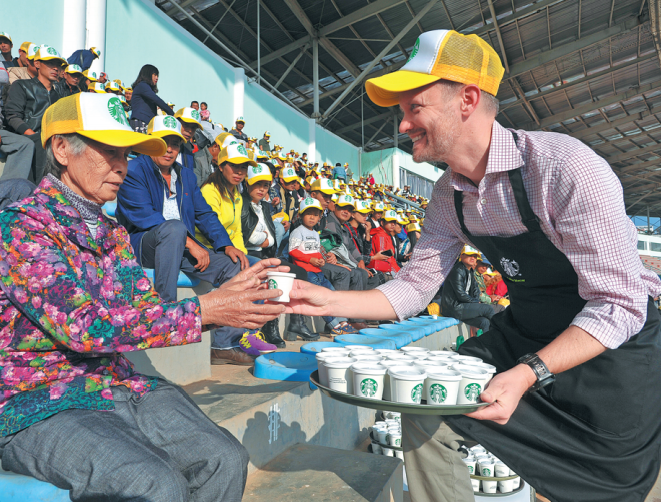 Pu'er, famous for tea, now becoming known for its coffee beans, thanks to program
Pu'er, a city long famous for fermented tea, has now also become a capital of coffee planting. That's due, in part, to the Starbucks Yunnan Farmer Support Center, which was built in 2012 to help local coffee farmers with sustainable practices while providing high quality Yunnan Arabica beans for the well-known international coffee brand.
Tong Yalun, director of the support center, says the region's coffee growers sell their harvest at a "transparent global futures" coffee price, which means they get the same price for every batch they bring.
Before the center was built, the quality of locally grown coffee delivered to the processing factories was spotty-sometimes even containing small stones mixed in with the beans. Farmers often drove directly to factory roasters to sell their beans.
It's only by offering a steady supply of beans with consistent quality, Tong said, that the Yunnan coffee brand will become well known around the world.
Tong decided to reward farmers who bring better quality beans with prices that are higher than the future market.
"You give me good beans, I give you good price," Tong said. Overnight, the news spread. Soon, a long queue of trucks appeared at the front gate of their factory.
Consider Ding Zhihai, who spent 12 hours driving 800 kilometers from the coffee-planting area Baoshan, which is close to the Nu River and has an altitude between 800 and 1,600 meters-a fine place to grow coffee.
Ding helped set up a collective firm in 2014 representing four villages with more than 2,000 households; the group used to sell coffee beans to trade agencies who often offered low prices, he said.
On March 6, the group sold 30 metric tons of coffee to Starbucks' Aini factory for the first time. After sampling and testing, he received a bonus of 55,000 yuan ($8,801.4) for the large diameter of his beans.
Today, Yunnan province contributes about 95 percent of the coffee beans produced in China. Pu'er alone takes up about 60 percent.
Farms like Ding's collective firm must pass the CAFÉ Practice test, a third-party verification process that ensures companies are sourcing sustainably grown and processed coffee by evaluating the economic, social and environmental aspects of coffee production.
By the end of 2017, there were 1,678 Yunnan coffee suppliers that passed their CAFÉ Practice test, covering plantation areas of more than 16,000 hectares.
The support center has offering planting knowledge and services for free to nearly 17,000, offering planting knowledge and services for free to farmers, such as how to tackle coffee tree diseases and how to fertilize.
Sun Jian, an agricultural technician at the Support Center, said researchers there have studied which environment best suits growing coffee trees in Yunnan and developed the first comprehensive fertilizer for local farmers, and helped farmers to get a good price in buying their fertilizer products.
Last year, at the Pu'er stadium, about 4,000 coffee farmers from Yunnan were offered the opportunity to taste the brewed coffee they had grown.
Zhu Yuankun, a local farmer was rewarded with prizes for "top delivery in volumes and in quality".
"What the convention brought is a sense of honor among the farmers to make them feel proud of what they are doing," Tong said.
An increasing number of local farmers are offering quality beans to Starbucks. In 2017, the company collected about 7,000 tons of coffee beans from the province.
Tong said it is still not enough, as they hope to be able to supply more than just Chinese markets and also develop their own high-end coffee beans.
In 2017, Starbucks China developed its first premium small-lot coffee from Yunnan, which is named the Starbucks Reserve Yunnan Yellow Honey Coffee. Last December, Starbucks opened its first international Starbucks Reserve Roastery in Shanghai.
"Starbucks has been dedicated in contributing to the development of the coffee industry in China, to bring the best of Yunnan coffee to the country and to the world," said Belinda Wong, CEO of Starbucks China, in 2017. "We've taken a key step to complete the journey from a raw bean to a cup of brewed coffee in China."
The roastery has been able to roast beans from Yunnan and offer Chinese customers coffee made from beans that were harvested fairly recently, therefore improving the taste of the coffee. Previously, the beans were roasted in Starbucks' roastery in the US and shipped to the Chinese market.
There is a market demand for more hand-brewed coffee outlets, while the Shanghai Roastery is a good opportunity for Starbucks to upgrade its products and branding, said Jason Yu, general manager of Kantar Worldpanel China.
Howard Schultz, executive chairman of Starbucks, predicted the coffee market in China will achieve the same scale as that of the United States in nine years.
Starbucks now operates more than 3,200 stores in 139 cities in China and is hoping to cash in on the growing demand from lower-tier cities. The coffee chain is on the way to achieving its goal of operating 5,000 stores in China by 2021, and continuing to open shops in about 15 new cities annually to reach more than 200 cities by then.
One of those cities is Pu'er, a fourth-tier city that borders three Southeast Asian countries. Advertising for recruitment for baristas has already begun.
In the future, the Starbucks Yunnan Farmer Support Center is expected to expand collection regions to its four areas in Yunnan province, from Pu'er city, to Lancang, Xishuang Banna and Baoshan.
"We want the farmers here to live a better life," Tong said. "We want the world to know the brand of Yunnan coffee."