Love of cats is big business
Share - WeChat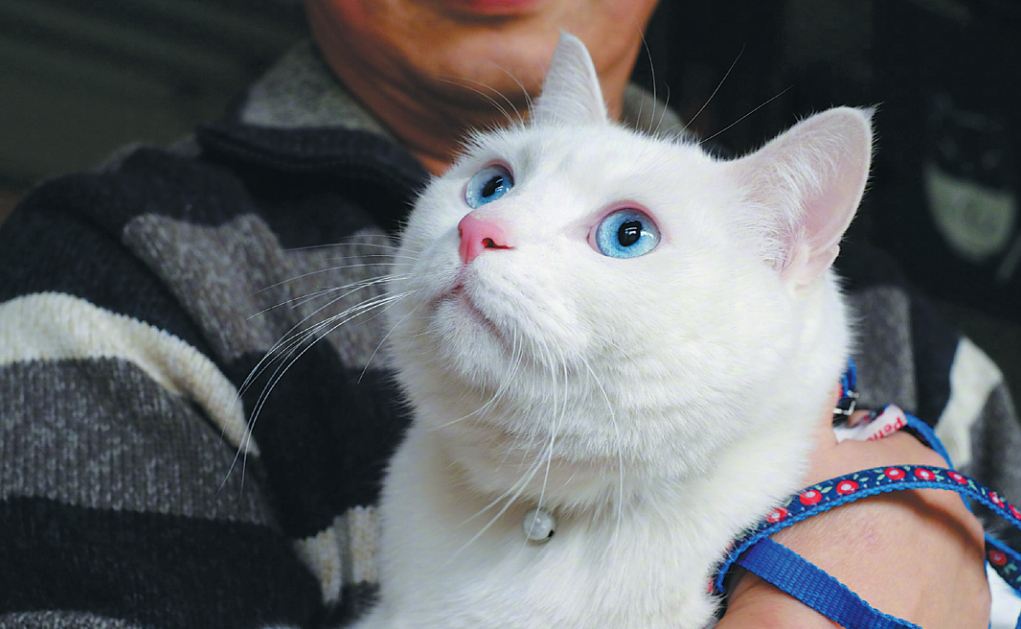 Fast-growing sector includes breeding, medical care, hospitality, foods, toys and cafes
Many people love cats, especially when they're on the internet. Millions of pictures and videos of cute kitties-playing the piano, causing problems around the house or getting scared by, say, a cucumber-are posted online around the world every day, and China is no exception.
For example, a cat named Soobin, meaning "crispy cookie" in English, is one of the most famous celebrity cats among Chinese netizens and has 4.19 million followers on Sina Weibo-the Chinese twitter. Any of its "posts" can easily gain thousands of replies.
It doesn't take a genius to know there is money to be made in people's affection for felines.
Apart from sitting on the laptop and drinking water from human cups, Soobin plays a much more important job in the video company he "serves"-Shanghai Canbox Media Co Ltd. He is the leading character of the company's cooking show Cat's Kitchen and the major intellectual property of it.
"We didn't require Soobin to act in the filming, we just put him in front of the camera and let him be a cat," said Jiang Xuan, director of Cat's Kitchen and the owner of Soobin. "It adds characteristics to the show and has attracted many fans."
The cooking show's Weibo account now has 11.4 million followers, and more than a third of them are fans of Soobin.
"Now, due to fans and audience's obsession with Soobin, the goods we developed are more or less related to Soobin," Jiang said.
But the major revenue of Cat's Kitchen comes from advertisements. It's a considerable exposure for brands related to the culinary industry. The company's client list includes Starbucks, Zojirushi and Meiji.
Soobin is just one of many celebrity cats. Last year the death of Loulou, another Weibo celebrity cat, triggered a wave of mourning among netizens.
Duanwu, a Weibo Scottish fold cat, together with its buddy, a Samoyed, have also made their owner rich. The owner charges more than 20,000 yuan ($3,168) for a 140-word Weibo ad, according to a Tencent Research Institute report.
It is just the tip of the iceberg of the mass obsession regarding cats and the cat-related economy, which also includes breeding, medical care, hospitality, foods, toys and cafes.
"The increasing income, consumption upgrading, emotional need for company caused by the one-child policy in the past and the aging society are the drivers of the pet industry," said Ye Qianyu, an analyst of Everbright Securities. "By 2020, the pet industry in China will grow to 220.3 billion yuan."
Compared to dogs, cats are comparatively less dependent on their owners, and are growingly popular among the city's young workers.
"I got my cat Pangtiao for 8,000 yuan. It was a discounted price because my cat's face is not in perfect symmetry," said Xu Jinghao, who has a black and white Garfield cat. "I've had this cat for half a year now and spent thousands of yuan on it."
The daily expenditure includes cat food, cat litter sand, clothes, toys and nutrition supplements.
"There are more people keeping cats as pets," said Han Jing, owner of Meowland, a Shanghai-based pet shop. "And the price is growing every year. From my shop, about 60 kitties will find their new homes every month."
She said the price of cats depends on the quality of the animal, and the most expensive cat can be sold for 100,000 yuan.
"Five to eight thousand yuan is the most popular price range," she said.
According to VC SaaS, a service platform for venture capital, funding and investment, dogs are still the first choice among Chinese pet lovers, accounting for 57 percent of urban pets, while cats are the second, accounting for 21 percent. But in recent years, the cost of raising cats has surpassed dogs and reached 500 yuan a month, VC SaaS observed.
Not everyone can have the luxury of owning a cat. Chinese netizens have developed a new mechanism-"cloud petting"-which started as a joke when catless people began following daily updates about other people's cats and interacted with their owners as if they had cats, too.