Starbucks laser-focused on China market
Share - WeChat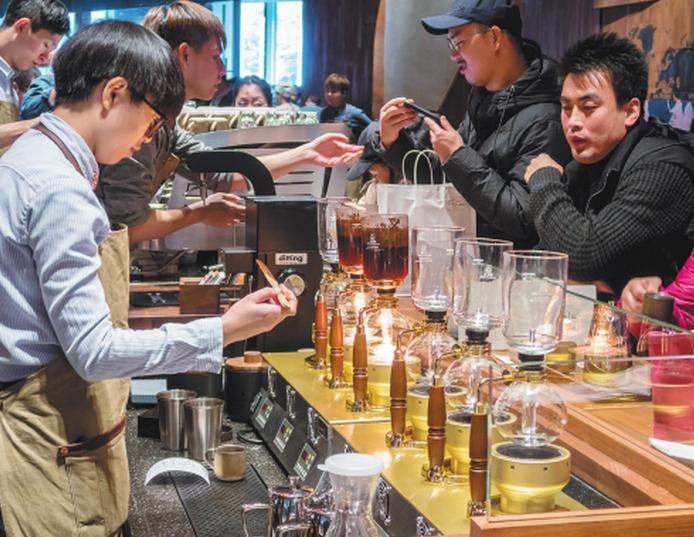 Coffee chain store operator continues with biz upgrading and expansion into lower-tier cities
Strong growth in China has continued to boost Starbucks Corp's financial results, reflecting the significance of the Chinese market where the world's largest coffee chain store operator has invested in upgrading stores, local plantation and expansion into lower-tier cities.
China's comparable same-store sales increased 6 percent, according to the company's first quarter report of fiscal 2018, which ended on Dec 31, 2017. In comparison, global store sales only grew 2 percent.
"China grew revenues 30 percent in the first quarter, with the strategic acquisition of East China positioning us to accelerate our growth in the key China market," said Kevin Johnson, president and CEO of Starbucks. "Today, Starbucks has two powerful, independent but complementary engines driving our global growth, the United States and China."
On Dec 31, Starbucks completed the acquisition of the remaining 50 percent share of its East China business from joint venture partners Uni-President and President Chain Store Corp for about $1.3 billion in cash, allowing Starbucks to assume 100 percent ownership of more than 1,400 Starbucks stores in Shanghai and Jiangsu and Zhejiang provinces, bringing the total number of wholly owned stores in China to over 3,200.
Jason Yu, general manager of consumption investigation firm Kantar Worldpanel China, said a unified ownership structure would help Starbucks accelerate its market development and franchise expansion, as a result of a faster decision-making process and a single strategy.
On Dec 6, Starbucks opened its first international roastery in Shanghai. On the opening day, the Shanghai Roastery became the highest grossing Starbucks store in the world, averaging more than double the number of transactions of their Seattle Roastery.
The decision to locate Starbucks' first international roastery in Shanghai was to grow its high-end market in China. The Shanghai Roastery is the company's largest cafe of its kind and comes three years after the company launched a roastery in Seattle. It is planning to open similar outlets in Milan, New York and Tokyo soon. The Shanghai outlet is also part of the coffee chain's long-term expansion plans in China.
According to Kantar Worldpanel China, Starbucks has a penetration rate of 37 percent in Shanghai among people aged between 15 and 49, while coffee outlets in general had a penetration rate of 48 percent among the same age group by the end of October 2017.
In other first and second-tier cities, the penetration rate is 16.8 percent for general coffee shops and 9.9 percent for Starbucks.
There is a market demand for more hand-brewed coffee outlets, while the Shanghai Roastery is a good opportunity for Starbucks to upgrade its products and branding, Yu said.
"The Shanghai Roastery represents our continued investment in our premium Starbucks Reserve brand," said Belinda Wong, CEO of Starbucks China.
Starbucks is looking to cash in on the rising consumption capacity of the mid and high-income group in China.
Scott Maw, chief financial officer of Starbucks, said of this year: "We are laser-focused on accelerating growth in China and driving improvement across the US business as we move into and through the back half of the year."
Wong said the company is deeply aware of the fact that their Chinese customers are also becoming more sophisticated and are constantly looking for new ways to realize their lifestyle pursuits.
She said the Shanghai Roastery will fuel the next wave of transformation that will elevate the store experience, and also serve as the pioneer of the planned eight coffee roasteries in China.
Starbucks is on the way to achieve its goal of operating 5,000 stores in China by 2021, while continuing to open shops in about 15 new cities annually to reach more than 200 cities by then, according to the company.
With more than 3,200 stores across 139 cities employing 40,000 people and serving more than 6 million customers every week, China is now Starbucks' largest, fastest growing and most important international market. In the first fiscal quarter of 2018, the company opened 188 new stores, or one every 12 hours.
The coffee chain has established its own design studio and R&D center in Shanghai to innovate and recreate with a goal to enhance the in-store experience.
Each of the 500 new shops opened every year is not a repetition of what has been done previously, but a unique store based on culture and characteristics to blend local features with Starbucks' experience, Wong said.
Meanwhile, the company has invested in the digital field. "China's digital space is very different and, in some cases, more advanced than many other markets in the world. Starbucks has invested to build a digital service for Chinese customers, which integrates its in-store experience with digital assets in China," Wong said.
Social gifting is an important component of Starbucks China's digital sector. After partnering with Alibaba to create a social gifting platform on Tmall in 2015, Starbucks collaborated with Tencent to develop a social gifting feature on WeChat, "Say it with Starbucks", in February 2017. Millions of online Starbucks gifts have been shared on the platform over the past year.
With the Alipay acceptance rolled out across China in September, Starbucks has adopted all mainstream digital payment options in China. The combined WeChat and Alipay cashless payment options achieved more than 60 percent of Starbucks' store payment tender by the end of last year.
Howard Schultz, executive chairman of Starbucks, predicted the coffee market in China will achieve the same scale as that of the United States in nine years.
According to market research provider Euromonitor International, Starbucks has seen its market share in China grow from 60.5 percent in 2012 to 74.6 percent in 2016, topping the coffee shop industry. McCafe of McDonald's Corp ranked second, but with only 9.1 percent, followed by Costa Coffee of Whitbread PLC at 8.4 percent and Pacific Coffee of China Resources Enterprise Ltd at 3.9 percent.
The coffee chain store market in China is still growing rapidly, fueled by strong demand from third and fourth-tier cities. Data from Euromonitor show that revenue of specialist coffee shops-coffee-themed outlets that focus primarily on serving coffee-is expected to rise from 20.95 billion yuan ($3.29 billion) in 2017 to 29.42 billion yuan in 2021.