AI technology integrates online and offline games
Share - WeChat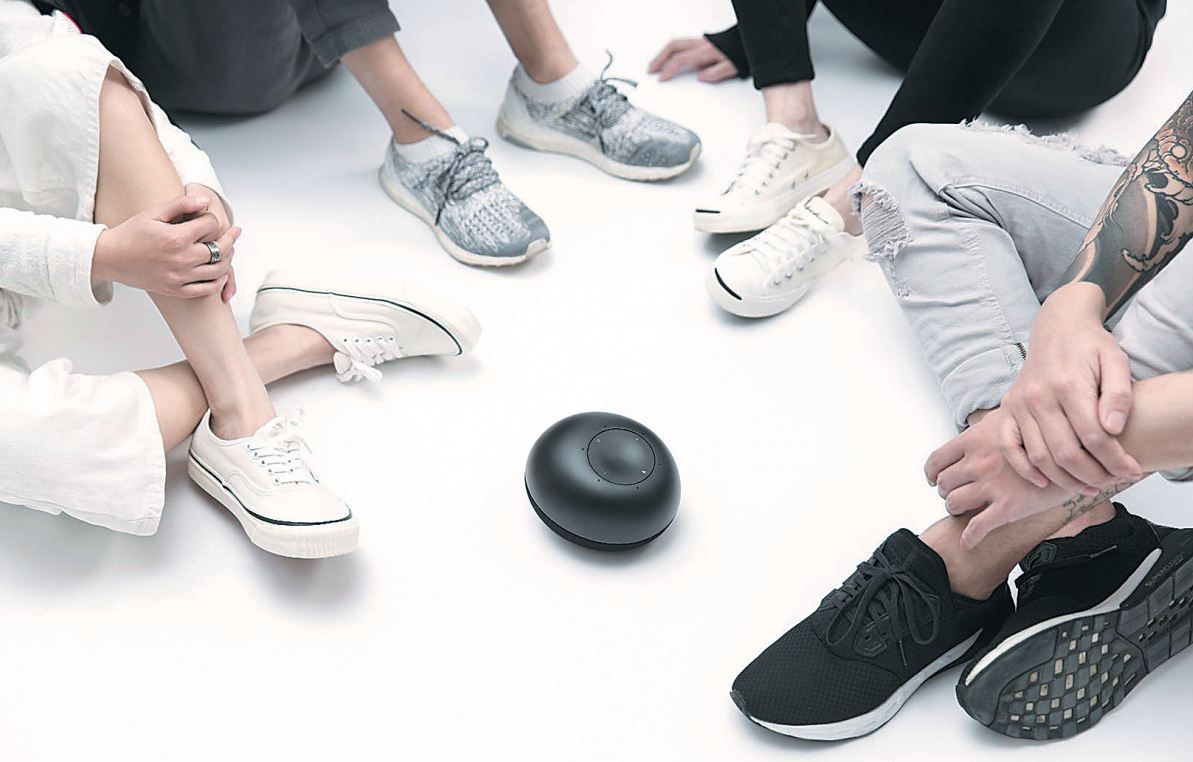 Developers combine gaming content with real-life interactions to gain more loyalty
The party card game Werewolf is a regular part of life for Tracy Xing, a 27-year-old office clerk in Beijing who meets with colleagues to play the game in her office's public area at noon every Friday.
Now, she has a new "colleague" with whom to play-an artificial intelligence robot.
Werewolf is a simple reasoning group game that requires a judge to preside over the activity. It can be played online, with different roles such as villagers and killers assigned to the players and the computer acting as the judge.
Like Xing, many people prefer to play the game with friends or colleagues face-to-face offline, and the players take turns being the judge. But now, an AI robot can serve as the judge so that the participants can enjoy the game even more.
During the game, the robot, invented by Rokid Co Ltd, a Hangzhou-based AI firm, can give instructions and play background music, creating an immersive experience for human players.
Rokid gained a patent award in Silicon Valley last year for its Werewolf judge function.
"Having robots take some of humans' routine work, and set people free to engage in face-to-face interaction, is the original intention of inventing Rokid," said Jiang Gonglue, chief designer of the AI robot.
"In this information technology era, people are used to chatting with friends via WeChat. We wish to bring our users back to the time when we accompany our friends and talk with each other face-to-face," Jiang said, adding that the company will continue to develop multiplayer social games based on AI robots, such as knowledge quiz and music contest.
Misa Zhu, founder and CEO of Rokid, said that "taking advantage of AI, we want to create a cozy and pleasant environment for friends to stay closer."
Apart from promoting social interactions, AI technology is also helping get game players involved in exercises offline in the real world.
Walkup, a mobile game developed by Beijing-based internet firm Breeze Co Ltd, integrates offline walking with mobile games, via a virtual world cruise.
Specifically, each step the user physically takes will be tracked by Walkup and transferred to the outline of a world map. The more steps one takes, the further one walks in the virtual world tour. To offer more fun, the game allows real-time interactions. Players may invite their friends to join the game and compare their progress on their routes. Because players worldwide can participate, participants can even see their world rankings.
The game had accumulated more than six million users by September 2017, three years after it was launched, with those aged 19 to 30 accounting for more than 70 percent of the users, according to Chen Yang, founder of Walkup.
Its daily active users reached beyond 400,000, with a monthly retention rate of more than 30 percent and 2.4 million visits every day.
"The gamification of a product is the future trend. In the game, we establish a motivating mechanism, encouraging users to exercise offline. In their daily routine, users enjoy the game, interact with their friends and achieve their goals of exercising every day. This is how we gain user loyalty," Chen said.
"This mobile game motivates me to exercise. It tracked my steps and transferred those steps onto my world map," said Lu Bei, 25, a Beijing-based Walkup fan.
"Starting from Beijing, China ... I've already 'walked' to Tokyo, Japan. Nowadays, I take my phone everywhere. I would love to see my icon move on the map, and to check my ranking among my friends," Lu said.
Dong Zhen, a senior entertainment analyst at internet consultancy Analysys in Beijing, said the gaming industry, "like other internet industries, will present its scenarios offline after all.
"For users, offline scenarios of a game are more vivid, and are easier for gamers to interact with each other, while for game developers, combining online gaming with offline interactions is a wise choice to gain the loyalty of users and expand their market share," Dong said.
"AI will take the place of many scenario-based functions, just like what the AI robot is doing in getting everybody involved in the Werewolf game, boosting the advancement of the gaming industry, as well as serving game players better," he added.
According to a report jointly released by the Game Publishers Association Publications Committee, Gamma Data Corp and International Data Corporation, China's gaming market reached 203.6 billion yuan ($32.3 billion) last year, up 23 percent year-on-year, and the number of game players in the country reached 583 million.
AI products such as the judge in the Werewolf game, which link game players online and offline, have a market potential of roughly 70 billion yuan, according to Gao Yang, a big data specialist at YY Inc, a Nasdaq-listed social platform.
The AI industry will become a key new growth point for the nation's economy by 2020, with the core industry value totaling more than 150 billion yuan, according to a guideline released by the State Council last July.
The volume of related industries, including entertainment, intelligent manufacturing, intelligent agriculture, smart healthcare, smart city, as well as national defense, will reach more than 1 trillion yuan.