New Spring Festival trends in China
Share - WeChat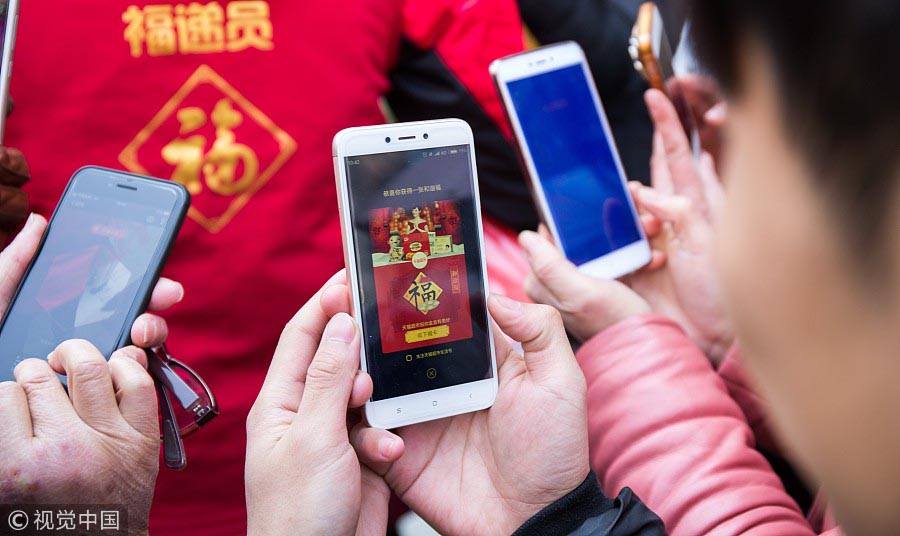 Online battles for luck

Ahead of lunar New Year, Chinese e-commerce giant Alibaba launched an online campaign inviting all its users to collect Chinese characters for fu, meaning "good fortune". By collecting five fu, people will have opportunities to take a share from cash rewards totaling 500 million yuan ($80 million).

The process of collecting was as simple as using phones to scan the word's Chinese characters.
More than 250 million internet users finished the task successfully, according to data from the company. Although many of them ended up with less than five yuan, what mattered more for them is finding luck in the new year.

The activity was welcomed by over 2,300 cities around the world, including Tokyo, Bangkok and Seoul, the company said.

Also prevalent during the holiday break was giving out hongbao, or red envelopes, via the country's major messaging app WeChat. According to a report released by WeChat on Wednesday, more than 768 million people sent and received red envelopes through the messaging app during the festival break, up 10 percent year-on-year.
Among them, an unnamed internet user from Nanchang in East China's Jiangxi province became the luckiest person by receiving a total of 3,429 red envelopes. The most generous user, according to the report, was a man from Chongqing in Southwest China, who sent out 2,723 red envelopes in five days.