Six films top 6.3b yuan over holiday
Share - WeChat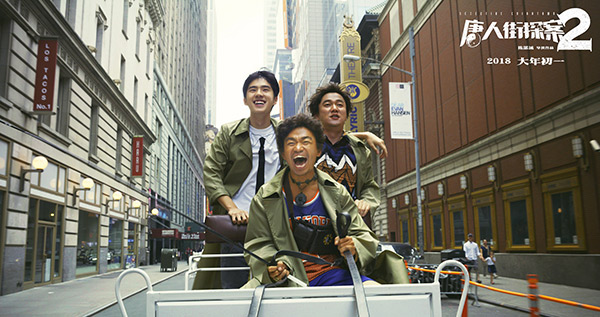 Six Chinese movies raked in about 6.38 billion yuan ($1 billion) in total just a week after their release on the first day of Spring Festival, according to box-office tracker Maoyan.
Maoyan's data show that as of Thursday at 5 pm Detective Chinatown 2's box-office take was 2.06 billion yuan, Monster Hunt 2's was 1.77 billion yuan, Operation Red Sea's was 1.37 billion yuan, The Monkey King 3's was 629 million yuan, Boonie Bears: The Big Shrink's was 448 million yuan and The Faces of My Gene's was 96.8 million yuan.
On the first day of Chinese New Year, total box office receipts of Chinese movies reached 1.26 billion yuan, an increase of about 56 percent over the same day in 2017.
Monster Hunt 2 took in more than 540 million yuan on the first day, breaking the single-day box-office record of Fast and Furious 8's 488 million yuan.
According to Maoyan, theaters in third- and fourth-tier cities drew the most crowds during Spring Festival.
"The Spring Festival season has the highest output ratio at the box office. Movie companies will continue to release their important productions during the season, making the competition more fierce," said Zhao Xiaonan, co-founder of Filmath, a Chinese site that offers movie data analysis via artificial intelligence.
Zhao said Chinese movies during this year's Spring Festival had a better online reputation than those of previous years. Good quality brings a good reputation and generates better box office receipts, she said.
She said many moviegoers went to cinemas with relatives and friends during the Spring Festival as a part of the festive celebrations, just like eating dumplings.
As one of the longest national holidays, Spring Festival provides time for audiences to attend the cinema. Many movie theaters have been constructed in third- and fourth-tier cities in recent years, providing more movie screens for patrons to choose from.
"When those from big cities go back to small cities for family reunions during the festival, they will spur others to go to the cinema," Zhao said.
She said Chinese audiences are having a higher standard for movies and want to choose good-quality films to watch.
"They often prefer comedies, action movies and Hollywood blockbusters with special effects. But their tastes have become diversified since last year," she said.
For example, Operation Red Sea, the first movie coproduced with the PLA Navy, is loosely based on the evacuation of Chinese citizens and foreign nationals from Yemen during the civil war there in 2015.
"The movie's highlight is about its truth, such as the battles and tactics. Also, the extras are played by our Navy soldiers. We've done lots of work to ensure its professionalism," said Tang Jing, the movie's producer and director of the Television Art Center of the Political Department of the People's Liberation Army Navy.
It took about a year to prepare before the shooting started. Jiaolong Commando Unit leaders and veterans of the Jiaolong special forces unit trained the cast in advance and followed the film crew during shooting for guidance.
Dante Lam, the Hong Kong filmmaker, directed the movie.
"Lam is a talented director. He is a military fan but is not so familiar with our Navy, so we invited him to experience navy life and communicated with him about the evacuation," she said.
Tang said the Navy decided to shoot a movie about the 2015 evacuation and wrote an original script, and then started to look for investors and a director.
In early 2016, the Navy decided to work with Bona Film Group and Lam. At that time, Lam's Operation Mekong was in its final production stage and they watched a few film clips and liked it.
Zhao said that support from the PLA helps such movies showcase real situations and the audience will have a better experience. In the future, there will be similar movies to fill market demand.
Several of the Chinese movies premiered in overseas markets at the same time as their domestic release.
Film distributor CMC Pictures is in charge of overseas distribution of Detective Chinatown 2 in Europe, Australia and Africa. The movie soon became a hit with the local Chinese community.
It premiered in 46 cinemas in the United Kingdom, Germany and Austria on Feb 16. Most premier tickets were sold out a day in advance.
According to Su Jia, president of CMC Pictures, it's difficult to distribute Chinese movies overseas due to lack of distribution channels, low sales income and because few Chinese movies can be shown in major cinemas.
Most Popular