AI-enabled smart homes coming soon
Share - WeChat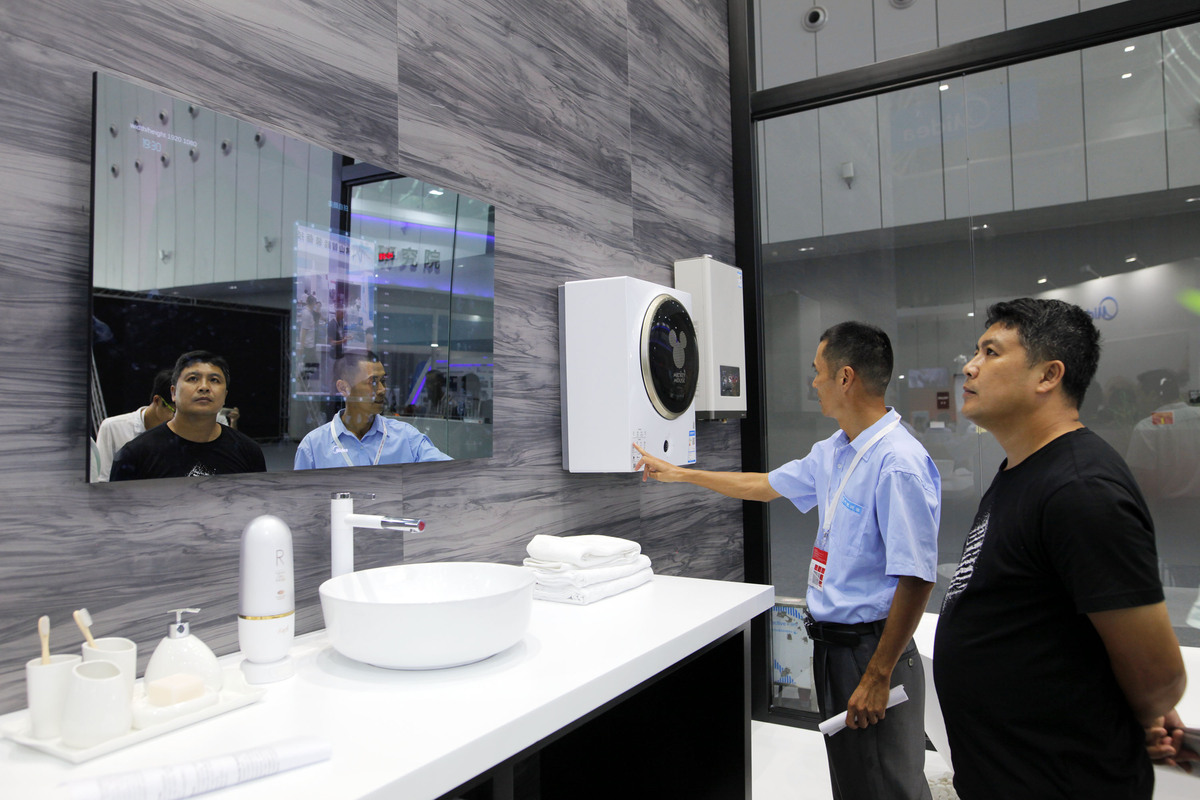 Traditional manufacturers are pressing ahead as industry enters period of fast expansion thanks to new technologies
Cutting-edge technologies are making life more convenient, and upgrading one's home with the latest such technology has become a new engine driving China's economy. More and more affluent consumers are pursuing a smarter, high-end lifestyle, which has given a big boost to the smart home market.
The AI-powered smart home is the future, experts say. According to statistics from market consultancy Statista, China's smart home market is expected to reach a value of 130 billion yuan ($20.3 billion) by 2018, with an annual growth rate of about 48 percent, a big jump from the 40.3 billion yuan market in 2015.
And the growth potential is huge, as smart home technology has only reached a penetration rate of 5 percent. The smart home industry is therefore poised to enter a period of rapid expansion, according to the consultancy.
Traditional home appliance manufacturers are pressing ahead with smart home products, such as air conditioners, televisions and refrigerators, by applying artificial intelligence technologies to transform and innovate products, as well as to grab a larger market share.
Leading Chinese home appliance maker Midea Group has announced M-Smart, a smart home system designed for the future of family living. In the past few years, the company has invested 20 billion yuan into research and development of smart home solutions, including the establishment of 17 research centers in eight countries, with more than 10,000 employees involved in R&D. It has more than 26,000 authorized patents.
As Midea is at the forefront of R&D, its intelligent air conditioners, which have a smart eye, a Wi-Fi function and a camera, can adjust the temperature to adapt to human activity in a room. The air conditioners can also respond to voice commands.
Its smart refrigerators are equipped with high-definition touch screens and sensors, which show the nutrition of the food inside. Some microwave ovens also offer voice activation and Wi-Fi-controlled functions.
Hu Ziqiang, chief technology officer of Midea, said technological innovation will help Midea keep driving ahead as Chinese consumers need a smarter home environment. Its smart home appliances have brought convenience to consumers with a centralized control system.
Moreover, Midea and China's second-largest e-commerce player JD signed a 20 billion yuan strategic cooperation agreement last year. The two sides will deepen cooperation in the fields of smart home appliances.
"JD can provide online technology, big data analysis and intelligent cloud platforms for manufacturing enterprises. It is an ideal strategic partner for Midea, which is actively seeking transformation," said Fang Hongbo, chairman of Midea.
Sichuan Changhong Electronic Co Ltd, a manufacturer of televisions, has produced TVs that can comprehend semantic nuances and distinct features of each voice, memorize users' preferences and viewing habits, and then come up with recommendations to suit the users at any given time.
"Artificial intelligence, with big data as its core, is an important application and development direction for the internet of things," said Yang Dan, chief technology officer of Changhong.
Internet heavyweights have stepped up efforts to march into the smart home market.
Chinese tech behemoth Xiaomi Corp is expanding beyond smartphones. There are products under its subbrand Mi Ecosystem, which includes air purifiers, cleaning robots, rice cookers, smart lamps, air conditioners and cameras.
These products are internet-connected and Wi-Fi-enabled and can be controlled via the Mi Home app. Lei Jun, founder and CEO of Xiaomi, said they aimed to "promote an upgrade in Chinese manufacturing with a new concept of 'Made in China' products."
Chinese internet search giant Baidu Inc is also tapping into the smart home sector, unveiling three AI-powered hardware products.
The smart speaker Raven H takes advantage of the company's advancements in voice recognition and AI, providing an instant gateway to Baidu's vast online resources and allowing users to use voice to perform a wide range of tasks including searching for information, playing music and hailing a taxi.
Raven R, an automated six-axis robot with emotional intelligence, has six humanlike "joints" that allow it to move flexibly following a user's command, and express emotions to enhance the interactive experience.
"These smart speakers and AI home robots will help people's everyday lives and bring them an experience once only seen in sci-fi movies," said Jesse Lyu, founder of Raven Tech who last year joined Baidu as the general manager of its intelligent hardware unit.
"The smart home industry is now developing by leaps and bounds, thanks to the advancement of internet of things, big data and other technologies. With people's increasing requirement for a high-quality life, the AI-enabled smart home sector has a promising future," said Zhang Yanbin, assistant director of Beijing-based consultancy All View Cloud.