Intelligent speakers becoming indispensable
Share - WeChat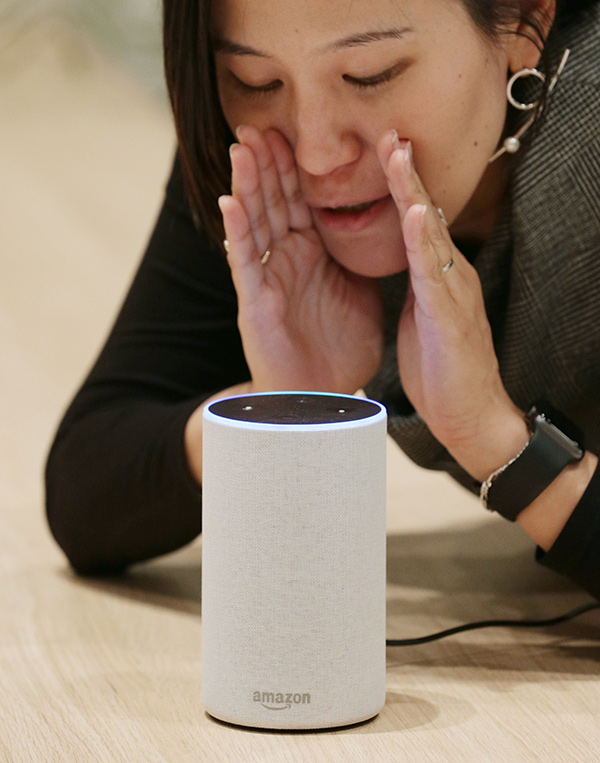 Like TVs, refrigerators and air conditioners-all of which have been modified to be "smarter" and thereby improve peoples' lives-smart speakers have also gradually become an indispensable family appliance in many homes.
As an upgraded and intelligent new product, smart speakers can help construct a mini smart home ecosystem by fulfilling family members' needs in music, online shopping and weather forecasts, among other requirements.
The second generation of voice-activated smart home speaker, Dingdong 2, has been released by LingLong Co, a joint venture between Chinese e-commerce giant JD and leading intelligent speech technology company iFlytek, to meet the demands of increasingly tech-savvy Chinese consumers.
Priced at 799 yuan ($125), the product comes with improved speech recognition capability, allows users to set up their own wake-up language, and features an LED display that enables users to make direct commands by gestures. It is also China's first screen-equipped smart speaker.
With its LED touch-screen, Dingdong 2 can display the home's network connection, Bluetooth, volume, weather, time and other information. The screen can also play a supporting role in interaction by responding to a series of commonly used commands, such as play, pause and display.
"China's smart speakers and voice interfaces are still in the initial stage and it will take cross-sector cooperation to make multiple terminal devices and application scenarios possible," said Fang Lyu, vice-president of LingLong.
The Dingdong 2 smart speaker is designed to challenge the dominant position of Amazon Echo and Google Home, as well as to contend with Jingling X1, the domestic rival product of Alibaba's Tmall.
According to a new research report of Strategy Analytics, a market research consultancy, the number of smart speakers will increase 10 times from 2017 to 2022, reaching a market size of more than $5.5 billion.
Foreign and domestic technology giants are both expanding their presence in the smart speaker industry, relying on their existing advantages in resources, technologies and channels.
Smartphone maker Xiaomi Corp, for example, has moved into the entry-level segment with its Mi AI speaker at a competitive price of 299 yuan.
Chinese internet search giant Baidu launched its own product, Raven H, at the 2017 Baidu World conference in Beijing. Relying on Baidu's own DuerOS software to provide services, this multi-functional device can recite search results or order a taxi.
According to GfK, a German market research firm, China's smart speaker sales will experience a sharp increase in 2018, with the sales number expected to hit approximately 1.2 million, and the combination of screen vision and voice interaction may become the future trend.
Li Jiayue contributed to the story.