China disruptive in a good way at CES
Share - WeChat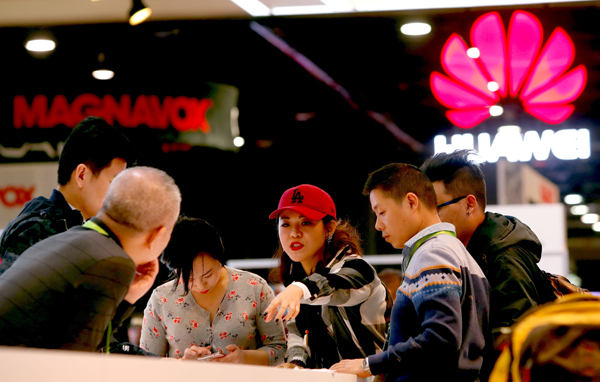 China has made headlines at this year's CES, or Consumer Electronics Show-an annual trade show organized by the Consumer Technology Association, which officially started on Tuesday in Las Vegas, not only because the nation has sent more than 1,500 companies and once again is the top exhibitor.
The disruptive technologies and innovation that Chinese companies have demonstrated at the annual show are now seen as essential.
Chinese exhibitors account for more than one-third of the total participants at the CES this year, which is a highly-valued platform through which Chinese products are introduced to the Western world.
Some startups this year, such as electric-vehicle manufacturer Byton, joined the long list of companies from China to unveil its first drivable model car at the CES.
Chinese companies also are cutting a more distinctive and stronger presence by acquiring the center stages of the exhibition halls and convention venues and becoming used to the spotlight, where they can showcase their best and brightest ideas and products.
On Monday, Baidu held a large-scale event featuring its newest AI technologies, including autonomous driving platform Apollo and conversational artificial intelligence platform Duer-OS.
Lu Qi, Baidu's vice-chairman, group president and COO, led the presentation by asserting that "AI is changing the world, China speed."
Liu Zihong, founder of Shenzhen-headquartered Royole, which had specialized in human-machine interface technologies and flexible displays since 2012, now operates a team of 1,600 members from 16 countries.
"Our research team owns a total of 1,600 intellectual property patents, and we emphasize the value of technology and innovation," Liu said.
In 2016, Royole introduced the world's first curved car dashboard based on flexible electronics at CES. The company's flexible display mass production campus, which cost $1.7 billion, was completed in Shenzhen the same year.
It completed series Pre-D funding in October 2016, with a market valuation of $3 billion, making it one of the world's fastest-growing technology startups.
Unlike in previous years when many Chinese companies chose to stay in corner booths and were clumsy at marketing, more Chinese exhibitors are confident and know how to communicate with the outside world, said Joana Wei, a cross-border investor based in Palo Alto, California.
"I told our team to pitch for the best spot at the exhibition hall and arrange a spacious display of products," she said, referring to one of the Chinese companies she has financed, AntVR.
"Our booth space is almost the same as Google's this year," she said. "To me, this is another format of confidence and capacity display."