Byton EV startup chose China for its base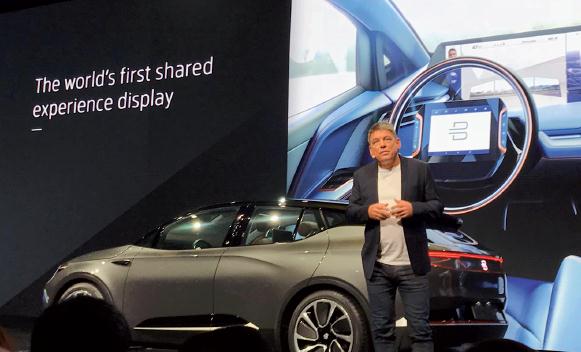 The Byton concept electric SUV was unveiled to investors and auto industry observers on Sunday at a news conference in Las Vegas before the start of CES (formerly called the International Consumer Electronics Show).
The SUV features facial recognition that unlocks its doors for drivers or passengers, Amazon's Alexa to entertain, and a 49-inch screen that spans the dashboard.
Byton President Daniel Kirchert said the startup has received several institutional and private investments from Jiangsu province, including $200 million from Suning Holding Group, as well as money from an e-commerce retailer and several state-owned companies. Harmony New Energy Auto Holding Ltd is another investor.
He said China is the world's fastest-growing and biggest EV market, but at the same time "it's short of global players and companies producing products that can compete with the best premium players in the world".
Based on an agreement with the Nanjing government in early 2017, Byton will spend $1.7 billion to build a factory there. It's scheduled to be completed late this year, with an initial capacity of 150,000 units a year. The first model will roll off the production line in 2019, starting at a price tag of $45,000 compared to $35,000 for Tesla's base model.
Launching its brand in Shanghai in September 2017, Byton also has established its US foothold with an office in Silicon Valley.
Besides Byton, several Chinese auto players will showcase their technology know-how at CES this week, competing against traditional players such as BMW, Ford, Mercedes-Benz, Tesla and Toyota. Alibaba-financed XPeng Motors will unveil a production model on Tuesday at CES.
On Sunday, Nvidia announced in its CES 2018 keynote presentation that its Drive Xavier autonomous computer platform will be used for Baidu's Apollo project, which aims to offer an open platform for self-driving cars in partnership with a wide variety of automakers, suppliers and tech companies.
According to the China Association of Automobile Manufactures, China leads the world in EV sales.
Around 700,000 units of smart vehicles - plug-in hybrids, fuel-cell vehicles and EVs - hit the road last year. By 2025, China has set the target for EV sales at 7 million.
About 1,551 Chinese companies will demonstrate their products, including artificial intelligence, smart homes, robotics, smart vehicles and drones, on CES' 180,000 square feet of exhibition space Tuesday through Friday.
The Chinese companies account for more than one-third of the total participants in the show, according to the show's organizer.
junechang@chinadailyusa.com