New work lifts cultural confidence
Share - WeChat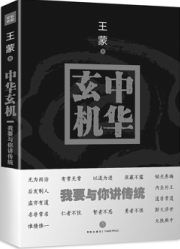 Taoism, Confucianism and Mencius' thought are not the only representations of Chinese culture. Chinese poetry from the Tang (618-907) and Song (960-1279) dynasties are just as valid.
Wang believes Chinese culture is still apparent in daily modern life through simple things like the way people drink tea and their personal demeanors.
"We are talking about a living culture, not a dead historical site," Wang says.
Wang likens Chinese culture to a huge tree. "For example, Chinese poetry is like a tree with thick branches, full of flowers and fruit that attracts birds and cicadas," Wang says.
"When I read one poem, there are hundreds of poems singing together in my mind."
Wu Shulin, executive vice-president of the Publishers Association of China, says he is pleasantly surprised to see that Wang has written several books exploring traditional Chinese culture in recent years.
"He has precise understanding of Chinese culture, and all his books about this topic are based on his knowledge reserves built up over all these years," says Wu.
"When we read his book, we need to feel the xuanji through his life story. We need to take time to digest his examples of xuanji."
Li Jingze, vice-president of the China Writers Association, also believes Wang's explanation of traditional Chinese culture hails from his role as a writer, a poet, a politician and a normal person with a typical mindset.
"It's a book of cultural confidence," says Li. "It's a collection of our thousands of years of history and our combined philosophical thought.
"We can learn not only about traditional culture from his book, but also more about ourselves from our traditions." Wang hopes the book will bolster his readers' cultural confidence and broaden their outlook.
"When we talk about cultural confidence, it has to be based on our traditions and our practice of revolution and construction," says Wang.
liyingxue@chinadaily.com.cn
Most Popular