US filmmaker spotlights gender violence in comics
Share - WeChat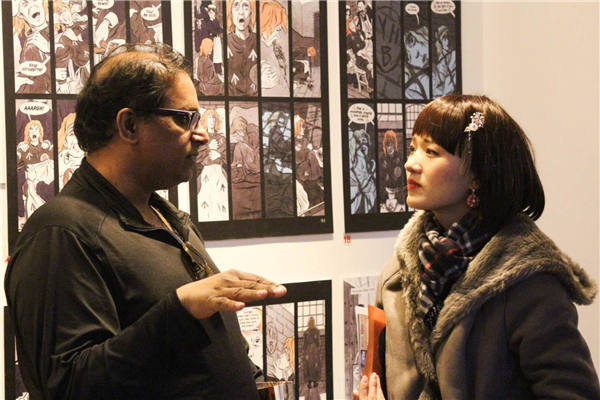 Nonprofits present comics, report in Beijing to support elimination of violence against women. Satarupa Bhattacharjya reports.
Ram Devineni, an Indian-born documentary filmmaker from the United States, was in Beijing last week to hold workshops and deliver lectures on comic books that focus on survivors of rape and acid attacks, as part of events to mark the International Day for the Elimination of Violence against Women, designated by the United Nations for Nov 25.

The two books, co-written by him with different authors and illustrated by American artist Dan Goldman, use augmented reality and Hindu mythology to tell the stories of its female superhero Priya, a dark-skinned woman with shoulder-length hair, who sits astride a tiger and comes to the rescue of women targeted by gender crimes.

The protagonist-a rape survivor-finds her inner strength in the first book, Priya's Shakti, which was released at a Comic Con in India's financial capital Mumbai in 2014.

The next book, Priya's Mirror, launched two years later at a cafe set up by an acid attack survivor in another Indian city, Agra, shows Priya helping such women by first fighting their seemingly do-gooder captor and then encouraging them to move on with their lives-a difficult yet necessary task. The book was cited by UN Women in its HeForShe campaign.

Some 26 million copies of the two books have been downloaded in India and other countries, and 30,000 physical copies have been given away for free so far, according to Devineni.

The comics are mainly read by teenage boys, a group that is both beginning to understand gender relations and drawn to an app-based technology that Priya's creators have used. Comics or graphic novels can be powerful media for social advocacy, and given the seriousness of the subject, Devineni and his team wanted the books to be "approachable".

While the character was envisaged after protests erupted in India following the gruesome gang rape of a physiotherapy student on a moving bus in New Delhi in 2012, Priya's empathy for survivors and her conversations about the importance of the healing process is socially relevant in any country where gender crimes exist.
Most Popular