Noel Coward's comedy gets a Shanghai homecoming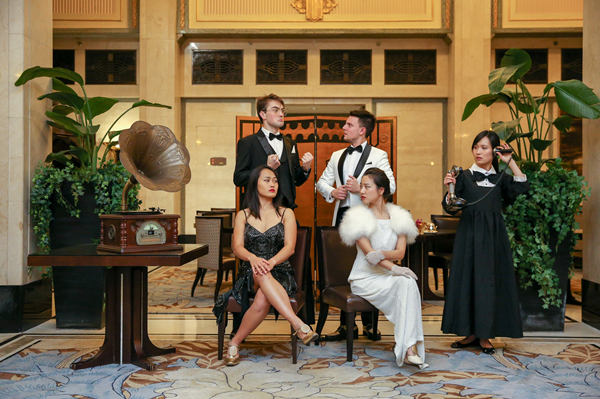 After more than eight decades, Private Lives, a comedy by the late English playwright Noel Coward is being brought back to the place of its composition by professors and students of New York University Shanghai and Shanghai Theater Academy.

Struck by influenza in 1930, Coward spent his convalescence in Room 314 at the Peace Hotel, then known as Cathay Hotel, by the Bund in Shanghai, finishing Private Lives in only a few weeks.

The play was an immediate success in London in the 1930s. It is still widely performed to this day.

It began staging in Shanghai on Dec 3 and will be shown through Sunday.

The plot is about two couples who, while on a honeymoon, discover that they are staying in adjacent rooms at the same hotel, and that their spouses were also once a couple.

The idea of adapting and staging the play in the Jasmine Lounge of the hotel came to Dianna Heldman, the assistant professor of vocal performance at NYU Shanghai, in 2016.

"I knew that Coward lived in Shanghai for some time, but I didn't know it was the Peace Hotel," says Heldman. "It's a perfect venue to do a 1930s play as its architecture and the decor is very much in keeping with that era."

Heldman took her idea to Jim Mirrione, the director of several Broadway shows, who now teaches drama at NYU Shanghai.

"Dianna and I went to the tea hour at the hotel during our brainstorming-they have music and dancing, but they don't have play," says Mirrione.

Mirrione then assembled a group of five professional actors and actresses, three of them graduates of the Shanghai Theater Academy.

The students in Mirrione's class at NYU Shanghai helped research the play lines and characters, trying to find out who were the people living in 1930s Shanghai.

The original setting of Coward's play is France, but to localize the show some Chinese has been added to the English lines.

"So, in essence, the show is also about the private lives of the people in Shanghai at that time," says Heldman.