EU-China Literary Festival promotes cultural communications
Share - WeChat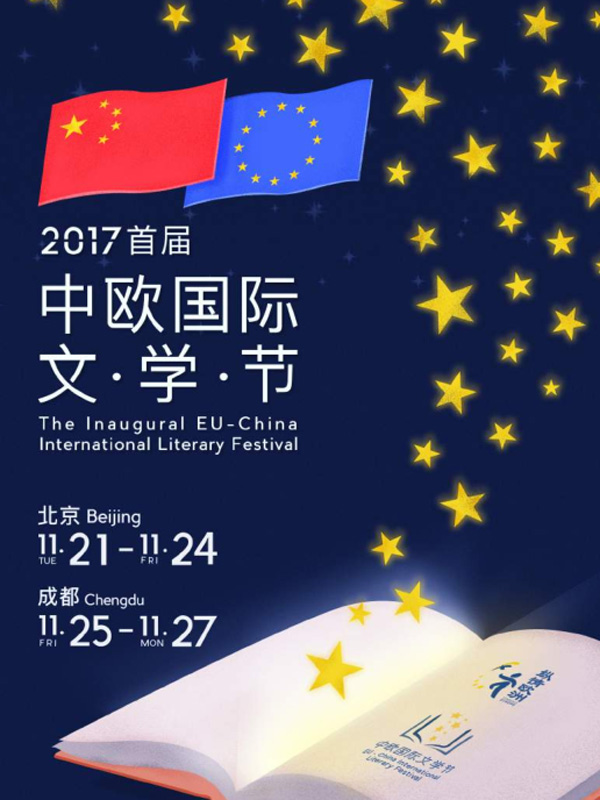 Poster of 2017 EU-China Literary Festival [Photo provided to chinadaily.com.cn]
The first EU-China Literary Festival was held in Beijing on Tuesday. By inviting 28 award-winning authors from the European Union and China, the festival sets out to promote cultural exchanges between the two sides and give insights into the lives, works, and unique character of their literary traditions.
As an integral part of the two-year-long Experience Europe initiative, a series of literary events will be held in Beijing and Chengdu, capital of Southwest Chuina's Sichuan province. Topics, such as literary ways and means, the writers' lives, diversity of writing forms and literary media in the digital age will be discussed among writers and between writers and book readers.
The event provides Chinese audiences with a valuable opportunity to witness how diversity plays into story formation and how the interplay of two cultures produces even more richness and complexity in these authors' works.
"The eight prominent European authors selected to represent their countries at this historic event hail from Austria, Belgium, Croatia, Greece, Italy, Lithuania, Luxembourg, and Slovakia, and we are proud to be joined by some wonderful writers from all across China. In both Beijing and Chengdu, the festival will involve a series of literary events and discussions where authors can exchange ideas, engage with readers and audiences, and celebrate the diversity of European and Chinese culture," EU Ambassador to China Hans Dietmar Schweisgut said.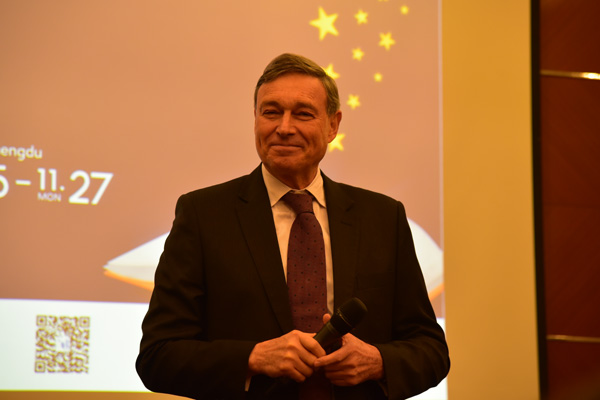 EU Ambassador to China Hans Dietmar Schweisgut delivers the speech at the festival. [Photo by Zhang Xingjian/chinadaily.com.cn]
"Over the coming 18 months, the second and third EU-China Literary Festival will be arranged with a view to welcoming authors from all the EU member states to China, and to connecting with Chinese authors and audiences in different regions of the country," the ambassador added.
Lu Min, winner of prestigious awards, including the Zhuang Zhongwen Literary Award and the People's Literary Award, and one of the Chinese authors participating in the festival's activities, shared her thoughts. "Writing to me, it requires more than solitude, yet writers need to blend and to be stirred. I am very much looking forward to meeting the eight authors visiting from Europe, for in the face of a complex and fascinating world we have a common view finder: literature," Lu said.
Belgian writer and actress Isabelle Wery, who is the winner of the European Union Prize for Literature, said, "Europe and China have two different literary worlds. If authors can come together to discuss not just how to write books, but how books are going to be written in the future, I am really excited to hear what the Chinese writers have to say."
"I like travelling in my life. During each journey, I can find new inspirations for my life and my work, and I like to share my experience in the journey with Chinese readers in the coming events," Wery added.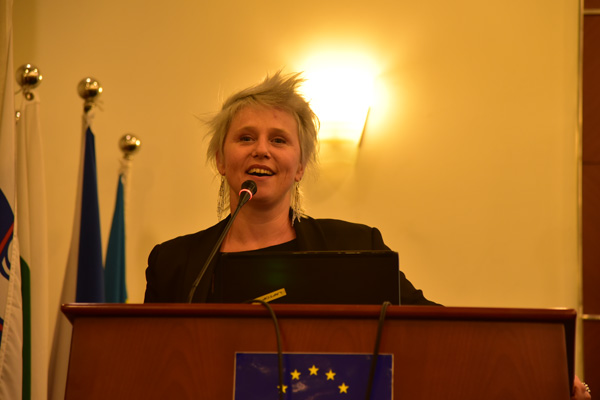 Belgian writer and actress Isabelle Wery [Photo by Zhang Xingjian/chinadaily.com.cn]
Other literary talents at the event included A Yi, a Chinese short story author and winner of People's Literature Short Stories' award for Top Twenty Literary Giants of the Future and Paolo Colagrande, author of Fideg, one of the top 10 Italian novels at the Festival du Roman of Cuneo-Chambery.
A special highlight is an online contest launched by the European Union Delegation prior to the Festival, where curious readers submitted their questions to the authors. With Lu Min as judge, two winners were selected to attend the launch reception of the 2017 Literary Festival and to chat with their favorite authors in person.