China's Fintech contributes to world in technology and business models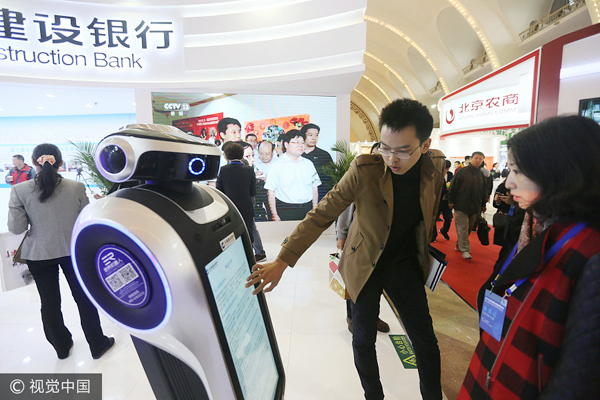 Visitors interact with a robot at the booth of China Construction Bank during an expo in Beijing on Oct 27, 2016. [Photo/VCG]
Q:
Banking sector seems to have been shaken the most by internet finance in the past five years. What do you anticipate the trends in internet finance in the next five years? Which sectors will be most influenced or revolutionized?
A: As internet finance serves sectors or people which are not covered by traditional financial service and traditional banks, it is hard to say internet finance has overturned the banking sector. But we have noticed that banks, which have been touched by fast development in the internet finance sector, have also turned to the internet and financial technologies to improve their efficiency. More and more banks are cooperating with internet companies or Fintech companies to seek mutual development.
The entire trend is that Fintech will penetrate more deeply in the traditional finance sector.
Enabled by big data analysis, precisely priced financial products, such as insurance policies and loans, will hit the market. And precise marketing of these products will also be possible.
As internet and artificial intelligence has made bricks-and-mortar outlets and some jobs redundant, numerous banks without outlets will appear and traditional banks will also downsize their outlets. In addition, robo-advisors will replace traditional financial consultants.
One-stop financial service platforms, whose traffic might be steered from various channels, will appear, making mix operation in the financial sector a reality and making super accounts a possibility for households.
Blockchain and digital Currency technologies will replace most of the procedures in financial transaction and payment.