The deference and diligence of a royal heir
Share - WeChat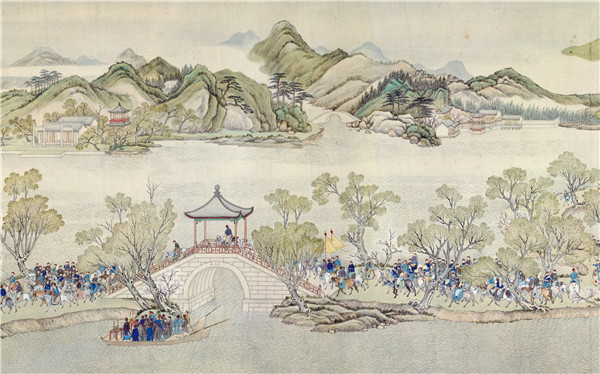 Emperor Qianlong's southern tours. [Photo provided to China Daily]
In Emperor Qianlong's 60 years on the throne he looked to his mother, his late father and his grandfather as guiding lights.
Emperor Qianlong was unlike most emperors in Chinese history, and in particular his father Emperor Yong Zheng, who had to wait for 44 years before ascending to the throne, with bitter political struggles that ultimately ended in the demise of more than one of his brothers.
For Qianlong, the road to power could not have been smoother. When he was 12 he met his grandfather, the revered Emperor Kangxi, for the first time. (Little surprise there, given that Kangxi had 24 adult sons and 97 grandsons.) Endearing himself with the old man through a composed disposition rare in a teenage boy, Qianlong, by then known as Hongli (Qianlong was his reign title, and his birth name was Hongli Aisin-gioro, with Aisin-gioro being the royal family's surname), became the de facto crown prince after the coronation of his father, Emperor Yongzheng.
Yongzheng was on the throne for 13 years, dying when he was 57. Qianlong succeeded him, with absolutely no opposition. And his mother, who started as one of Yongzheng's low-level concubines, became the king mother, the country's most powerful woman.
The exhibition at the Zhejiang Museum closely examines Qianlong's six trips to southeastern China and sheds warm light on the relationships between members of the royal family, relationships often marked by tension rather than tenderness.
In fact, the trips were possible mainly because of the empress dowager, at least according to Emperor Qianlong. "In 1750, the year before Qianlong's first trip to Jiangnan, he talked in public about his costly decision, giving four reasons, one of them being to fulfill his filial duty.
"Qianlong defined his reign as 'rule with filial piety'. For 41 years, between his ascension to the throne in 1736 and his mother's death in 1777, he acted out his role as a son diligently and wholeheartedly," says Ma Shengnan of the Palace Museum in Beijing. An exhibition now on at the Zhejiang Museum in Hangzhou, organized in conjunction with the Palace Museum, offers a glimpse into the mother-son relationship.
Most Popular