From confused lives to deadly mudslides, five takes on life
Share - WeChat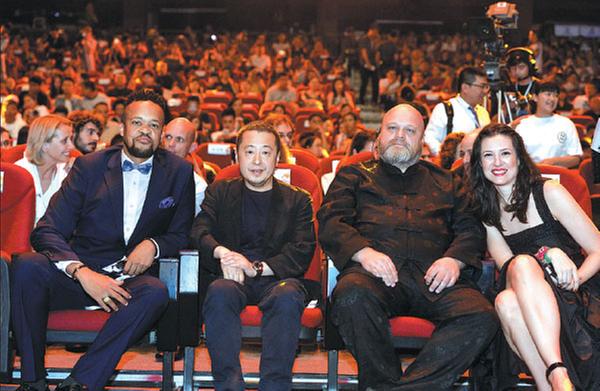 From left: Film director Jahmil X.T. Qubeka of South Africa, Jia Zhangke of China, Alexey Fedorchenko of Russia and Brazilian scriptwriter Gabriela Amral Almeida. at the second BRICS Film Festival in Chengdu.[Photo Provided to China Daily]
A film being premiered next month gives the BRICS bloc a new dimension, Xu Fan reports
If you know anything about the BRICS bloc and its activities, you may be under the impression that it's all about dry economics and politics. Prepare then to be given a fascinating cultural insight into the five-nation grouping with a film that will present in selected cinemas in China next month.
The film Where Has Time Gone? is the first feature coproduced by the five countries, and after its test screening it will open across China later this year, says Jia Zhangke, the movie's producer and co-director.
The film, a 110-minute anthology, comprises five short tales, directed by Jia, Alexey Fedorchenko of Russia, Madhur Bhandarkar of India, Walter Moreira Salles Jr. of Brazil and Jahmil X.T. Qubeka of South Africa.
"The world has undergone rapid social and economic change, and most people now lead incredibly fast-paced lives," Jia says. "Time flies, and it is the theme of time that resonates with the five filmmakers from different countries."
Jia, 47, says that acclaimed anthology movies such as Ten Minutes Older: The Trumpet (2002) and New York, I Love You (2008) inspired him.
The acclaimed arthouse director Jia has garnered a lot of attention in the West since the time of his directorial debut Xiao Wu, also known as The Pickpocket, which won several international awards in the late 1990s.
Most of his movies, such as Still Life (2006) and A Touch of Sin (2013), set emotional stories against a backdrop of the changes that are changing the face of China.
In Revive, the Chinese short story of Where Has Time Gone?, Jia again shows his stylish bent for depicting modern Chinese and the confused lives they lead.
The story, set in Pingyao, a town in Shanxi province, centers on a middle-aged couple who wrestle with the question of whether they should have a second child.
The story begins with a comedy scene in which a man brandishing a sword jumps off an ancient section of wall to fight against a group of "hunters" who are chasing him and want to capture him, but soon several tourists show up and use their smartphones to take photos. The couple and their neighbors are all live-action performers working and living in the town.
"I've always wanted to shoot a modern story that is set in an ancient town," Jia says. "Pingyao has a history that goes back more than 3,000 years. It has been flooded by youngsters since it became a tourist attraction. To some extent, the newcomers have breathed life into the old town."
In addition, he has long been fascinated by the topic of couples having a second child and going through middle-life crises.
Most Popular