China's dairy industry endeavors to regain public trust
Share - WeChat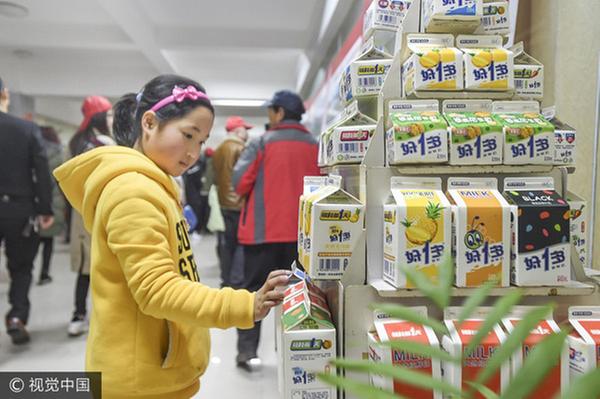 Forty families are invited to visit a dairy company in Guiyang, Guizhou province, March 11, 2017. [Photo/VCG]
SHANGHAI - Wearing a pedometer to ensure a good amount of exercise, getting a manicure regularly to increase comfort levels, listening to romantic background music and showering several times a day to keep clean and cool - this is the life of a cow in Shanghai.
In fact, this not only takes place in one of Bright Dairy's farms in Shanghai's Jinshan district, but also has become a standard practice in many of the large-scale dairy enterprises in China.
Keep fresh
"Good milk must come from close to home," Jin Danjie, head of the Jinshan farm, explained that the world's dairy import and export map shows that in most countries the best fresh milk is largely locally produced.
Imported milk is not always higher quality. In order to allow a longer shelf life for long-distance transport, imported milk is often ultra high temperature (UHT) treated, which decreases the nutrients and enzymes.
"The level of active protein in imported milk is lower than that of domestic milk," said Wang Jiaqi, director of a quality inspection center for dairy production under the Ministry of Agriculture.
Some 154 batches of 10 different brands of imported dairy products from 19 countries failed to meet China's national standards and were returned or destroyed in 2016, Wang said.
The reasons for the failures ranged from having excessive amounts of mould and coliform bacteria, to containing illegal food additives or being past the expiration date.
A report released by the Dairy Association of China and the Ministry of Agriculture last month showed that 99.8 percent of domestically produced fresh milk and 99.5 percent of dairy products checked were up to standard in 2016.
Ensure quality
At Jinshan farm, detailed files record information of cow's birth dates, weights and skin patterns.
"The application of this advanced information management mode helps farm workers monitor the health of cows," Jin said. "The workers can detect abnormal behavior or even diseases at an early stage via data fluctuation.
The farm has also formulated a healthier feed providing optimal nutrition for the cows.
Even during the summer heat wave, the farm smells good. It has invested in machinery to separate solid and liquid waste. Solid manure is turned into organic fertilizer and liquids go directly go into city sewage system.
According to Jin, the average milk production per cow has risen from 6 tons to almost 11 tons per year, reaching the levels of developed countries. The fresh milk quality also meets EU standards.
"We hope that after years of ongoing effort, we will eventually win the trust and support of domestic customers," Jin said.
Build trust
"I prefer to purchase domestically produced fresh milk," said a Shanghai resident surnamed Zhou. "As far as I know, the shorter time from production to use makes the milk fresher and more nutritious."
The longer shelf life of imported dairy products offsets the time taken to transport them from overseas countries and go through customs inspection, said Cao Mingshi, vice secretary-general of the Dairy Association of Shanghai.
"It does not bring any benefits for consumers," Cao said.
"I believe China's dairy industry is on the right track," he said.