Dongfeng Yulon's poor 2016 sales prompt top management shake-up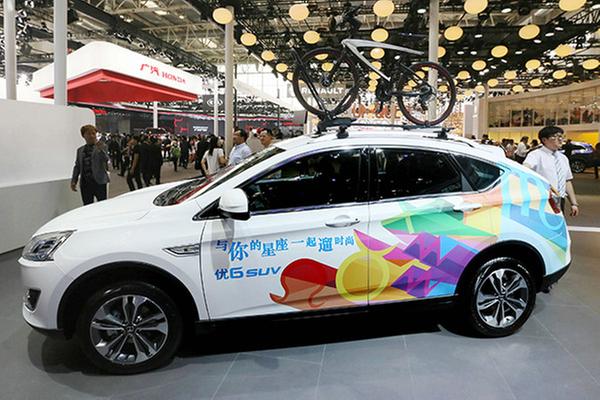 Dongfeng Yulon's SUV model incorporates star sign symbols into its designs. [Photo/China Daily]
Dongfeng Yulon, the only carmaking joint venture between the Chinese mainland and Taiwan, will streamline its management structure in the hopes of improving its efficiency and sales performance.
Dongfeng Motor is withdrawing managers it previously sent to the joint venture, according to Chinese media.
A source close to the matter told online news portal Sohu that Dongfeng will work as an investor only, while Yulon Motor will be given a larger say in management and decision-making.
Dongfeng Yulon's lackluster performance is believed to be the cause of the reshuffle.
Established in 2010 in Hangzhou, Zhejiang province, Dongfeng Yulon sold merely 40,000 cars on the mainland in 2016, a 33 percent fall from 2015 that lagged behind its 70,000-vehicle sales goal for the year. The performance made it Dongfeng's worst performing joint venture.
Dongfeng Yulon said on its official website that it will start a series of moves in July covering management, resources and finance. It plans to put in place a team of professional managers.
Yulon Motor Chairman Kenneth Yen said changes in the management team and products will be beneficial to improve shareholders' communication."The two companies have different corporate cultures. When you go to do business, you should understand each other's habits. We did not do a good job in that aspect."
In addition to its management shake-up, the joint venture is planning to expand its sales network and is enriching its lineup to improve performance.
Dongfeng Yulon now has six products available on the market: two sedans, two SUVs and two MPVs.
Its two parent companies are investing a further 800 million yuan ($117 million) into the joint venture to enrich its lineup.
Dongfeng Yulon said it will launch at least one model a year and release no less than 10 models before 2022.
The first will be a small-sized SUV, hitting the market later this year and targeting younger customers. Four further models will follow in 2018 and 2019.
The joint venture will also build dealerships in smaller cities to reach more potential customers, now that the country is introducing more flexible regulations for sales networks.
However, analysts are not as optimistic as the carmaker. They believe a professional management team might help in the short term, but Dongfeng's resources in the industry will be vital for future development of the joint venture, which does not excel in either brand recognition or products.