Hearing aid group Sonova aims to drive up sales with new facility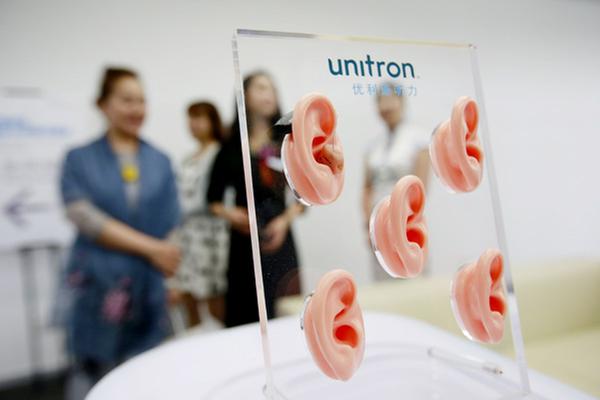 Visitors take a look at hearing aid products at Sonova Global Hearing Institute, launched in Suzhou on May 5. REN ZHENGLAI / XINHUA
Sonova, the biggest hearing aid maker globally by revenue, said that it is aiming to drive up sales in China, whose population suffers the world's highest levels of hearing loss, with the help of its newly-opened international training institute in Jiangsu province.
Sonova Global Hearing Institute, situated in the city of Suzhou next to the Swiss group's manufacturing base in China, is a training center that offers both theory and practical experience for hearing care staff.
The center, the first international training institute the company has set up, kicked off on Friday and is projected to enroll up to 30 students every month.
The latest national survey showed that there are 27.8 million people in China born or affected with hearing problems.
In contrast, there are only 10,000 certified professionals in the country who can prescribe tailored hearing solution for rehabilitation. The number of universities offering audiology degrees numbers just four.
Like the short or longsighted who need glasses, people with hearing loss also require personalized consultation from professionals before deciding which hearing aids to buy.
Leonard Marshall, vice president of Sonova Asia Pacific, noted that the shortage of hearing professionals was one of the key challenges for the company and said there were insufficient hearing health-care services in China.
"The focus of the global institute is of course China, that's why it's in China," said Marshall, at the center's opening ceremony.
Sonova has three manufacturing bases internationally. In 2016, the Suzhou factory produced more than 2.5 million hearing aids. Although Suzhou's output supplies the global market, there is a focus on tailor-made hearing aids at the Suzhou factory to meet the surging demand for personalized devices from Asian customers, who are willing to pay more.
"I think it's going to drive business in China, with the growing number of certified professionals in the market," Marshall said.
"Our advantage is that the students are exposed to our technology and products (during the training)," he said, adding that students trained by the institute are not obligated to use the company's products.
One of the company's competitive edges in the global market is that it is one of the few, if not the only, players which has a broad-based retail sales network, against most companies which only do wholesale.
In China, Sonova said it currently only works with distributors because of the low level of professionalism to support a retail sales network.
Sonova is currently the second player in China in terms of market share. That's after Sivantos, formerly known as Siemens Hearing Instrument before it was spun off from Siemens AG in 2014.
The company's financial report for the whole fiscal year 2016/17 showed sales of 2.4 billion Swiss francs, up by 15.3 percent in local currencies or 15.6 in Swiss francs. Asia Pacific contributed to 10 percent of the total, while China was second in the region after Australia.
Statistics from the Ministry of Industry and Information Technology showed that in 2014, there were about 4.06 million hearing aids sold, up 21 percent. It is expected that by 2020, the market size for hearing solutions in China will reach the size of five billion yuan.