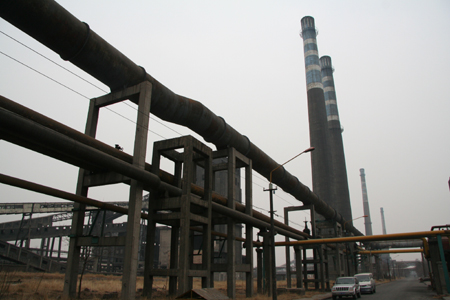 The site of the recently closed down Beijing Coking and Chemical Works hold a media tour in Beijing February 27, 2007. The plant has halted its production for the sake of Beijing's air quality,according to an official statement.[chinadaily.com.cn]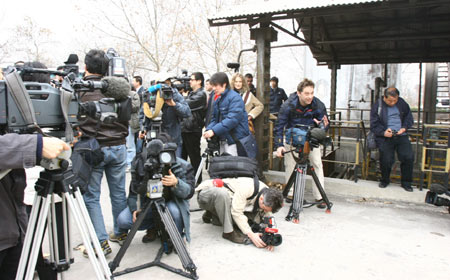 Cameramen capture the scene at the Beijing Coke and Chemistry Plant on Tuesday, February 27, 2007. Twenty-two reporters from 14 foreign media organizations visited the plant, which was once the greatest source of pollution in Beijing. [BOCOG]




Beijing has closed down a coal gas plant, a major polluter, located in the southeast suburb to honor the "Green Olympics" commitment, according to Zhang Xiwen, head of the Beijing Coking and Chemistry Plant, during a Tuesday media tour.

The ever-major source of air pollution has been under evaluation, conducted by the Beijing Municipal Commission of Urban Planning, and is likely to be transformed into an industrial relics park. "The park may become a part of the city's industrial tourism project and a relaxing place for citizens," said Zhang.

The coal gas producer, built in 1959, however, has gradually reduced production since Beijing won the bid to host the 2008 Olympic Games in 2001 and finally stopped production on July 23, 2006.

"We had to halt production sooner or later," Beijing Gas Corporation vice president Li Yongcheng told chinadaily.com.cn, "because there is increasing air pollution and a decline in production capacity." Part of the revised plant has been moved to Tangshan, a city in neighboring Hebei Province.

Beijing is expected to see annual 2.96 million-ton coal consumption reduction, 7,500-ton sulfur dioxide reduction, 7,321-ton smoke emission reduction, 750-ton waste water reduction and a 2,032-ton chemical oxygen demand reduction, thus contributing significantly to the environmental protection of the capital, following the plant's shutdown.

The 48 year-old Beijing Coking and Chemistry Plant was the first gas plant in the capital and it used to be a major gas producer for the city with a daily production of 1.8 million cubic meters of coal gas.

Other high-pollution plants, such as the Beijing Shougang Group, have also ceased production ahead of the Olympics. China's fourth largest steel maker in west Beijing halted production in 2005. The Group will also wind up its massive move to Hebei by 2010.