Beijing Shougang Group is a national icon: it was founded in 1919 as a flagship enterprise of China's iron and steel industry, employs about 87,000 and contributes 2 billion yuan (US$256 million) to municipal fiscal revenues annually.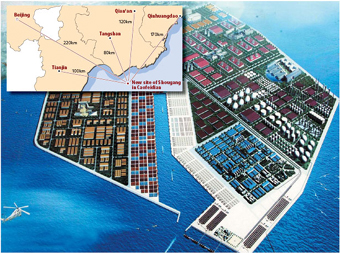 Perspective of Caofeidian.
But it has a darker side. Located only 17 km from Tian'anmen Square, Shougang belches out some 18,000 tons of inhalable particles annually, which account for nearly a quarter of the emitted inhalable particles of Beijing, according to the municipal environmental protection authority.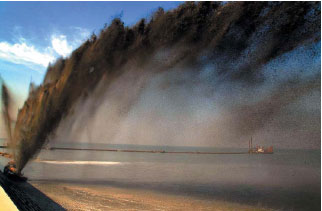 Building the infrastructure of the new plant of Shougang.
And Shijingshan District, where Shougang is located, always ranks at the bottom of air quality evaluation among Beijing's 18 districts and counties. The days that meet good and excellent air quality standards just accounted for half of the 365 days a year till 2005.
Now, that figure has improved to two days of good air quality in three - thanks to the company's decision to cut half of its annual steel production, or 4 million tons, by the end of this year.
The move is part of the steel giant's multi-billion-dollar relocation plan, which was set into motion in early 2005 in order to reduce air pollution in Beijing.
Shougang, also known as Capital Iron and Steel Group Co, will phase out all its steel-related production by 2010 and move to Tangshan, a port city in neighboring Hebei Province.
The country's fourth largest steelmaker by output has long been blamed as the biggest polluter in the capital city and was considered a potential obstacle for the upcoming Beijing 2008 Olympic Games.