Beijing has set an ambitious 245-day "blue sky days" target for this year - four more than last year - after beating the annual good-air-quality day target in 2006.

A blue sky day is defined as when the conent of sulfur dioxide in the air does not exceed 0.15mg per cubic meter; that of nitrate dioxide, 0.12mg/m3; and that of dust which can be breathed in by human beings, 0.15mg.

Despite the city's efforts to curb pollution and improve air quality in the past decade, environment experts say unless Shougang moves, Beijing's air quality will not meet the standard the government promised in its bid to host the 2008 Olympics.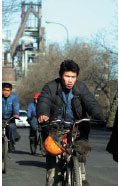 Workers on way home after working in Shougang's present factory.

The relocation of Shougang, after a nearly decade-long discussion due to its complexity, was finally put into action in February 2005 after the State Council, China's cabinet, and the National Development and Reform Commission, China's economic policy maker, approved the mammoth relocation plan.

On June 30, 2005, one of the five blast furnaces doused its flames, signaling the shift. The first large-sized blast furnace of Shougang that had been humming for 47 years, put out its flames, which marked the relocation has taken the first concrete step.

The environmental protection authority predicts that the production halt of the No 5 blast furnace can reduce emission of sulfur dioxide by 48 tons and cut dust discharge by 184 tons annually.

After cutting its steel output to 4 million yuan by this year, Shougang will continue to reduce its steel-related production during Game-time in 2008, according to Zhu Jimin, president of Shougang.

Zhu says during the relocation period, Shougang will inject at least 200 million yuan ($25.64 million) a year in environmental protection in Beijing. Between 1995 and 2005, the company spent more than 2 billion yuan to improve its environmental performance. And in 2003, it slashed 2 million tons of steel production annually to alleviate air pollution.

New production base

The new base of Shougang is located on Caofeidian, a tiny island 80 km south of Tangshan, where Shougang and Tangshan Iron and Steel Corp, China's sixth-largest steelmaker by output, set up a joint venture in October 2005.

Shougang holds 51 per cent, and the construction of the plant's first stage, with an annual steel output of 5 million tons, is expected to be finished in the first half of 2008, according to sources at Shougang.

Construction workers have reclaimed nearly 12 square km of land from the sea - about three times the original size of the island - for the first stage.

The second stage of construction, with an annual steel output of nearly 10 million tons, is expected to be finished by 2010, when Shougang moves all its steel-related production out of Beijing.

"The relocation is not a simple duplication transferring Shougang's pollution to Hebei Province," Zhu stresses. Instead, the whole process will follow environment-friendly practices.

The new plant is working on reducing pollution and waste. It will make use of surplus power to save energy and water.

The project includes a facility that processes coal tar from steel making, a cement factory that will use industrial waste from steel and power, and a desalination facility of used seawater from power plants.