Merkel visits Premier Li's home province
( Xinhua )
Updated: 2015-10-30 19:36:19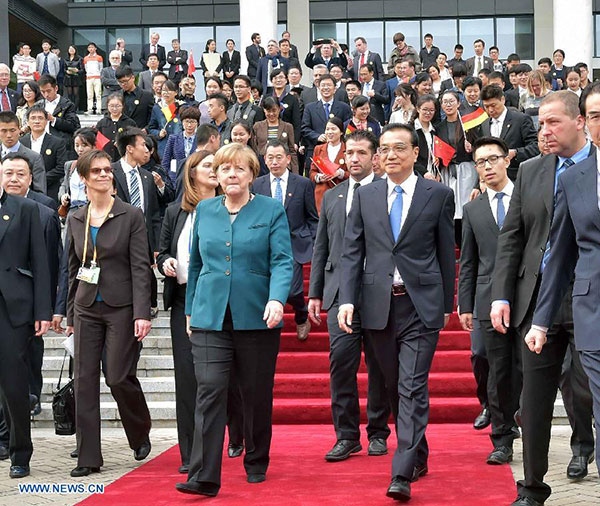 Chinese Premier Li Keqiang and German Chancellor Angela Merkel visit Hefei University in Hefei, capital of East China's Anhui province, Oct 30, 2015. [Photo/Xinhua]
BEIJING - Chinese Premier Li Keqiang and German Chancellor Angela Merkel on Friday visited Hefei, capital of eastern China's Anhui Province, Li's home province.
It is the first time that Li has invited a foreign leader to visit his home province.
In the morning, they toured Hefei University, which was jointly founded by Anhui and the German state of Lower Saxony in 1984. The university has maintained exchanges with 17 German higher institutions and seen frequent exchanges of Chinese and German teachers and students over the past 30 years.
Calling the university a great model of China-Germany cooperation, Li said China is speeding up development of its vocational education, and hopes to learn from Germany in this regard.
Li and Merkel said that Hefei University will act as a demonstration site for China-Germany education cooperation.
The Chinese premier expects to cultivate more talent through vocational education to boost Chinese entrepreneurship.
Merkel said she was confident in the future of bilateral youth exchanges and education cooperation, vowing to encourage more cooperation among the two countries' local governments.
The two leaders tasted German-style beers brewed by students of the university.
They also attended a seminar with business leaders from both countries. Merkel visited a local family and a village school on Friday afternoon.
It is the German chancellor's eighth China visit, making her the most frequent visitor to China among Western leaders.

We will not give up search, Li vows
International hunt for missing airliner continues after fruitless six-day search