Vice-premier hopes to see more US students
Updated: 2015-06-26 07:44
By Amy He in Washington (China Daily)
Comments
Print
Mail
Large
Medium
Small
Beijing, Washington promise to seek furthercooperation in various arts projects, athletics
Vice-Premier Liu Yandong said on Wednesday that she would like to see more students from the United States studying in China.
"Right now, there's a deep imbalance, and we hope that there will be more American students in China," she said.
Liu was speaking during a plenary session of the China-US High-Level Consultation on People-to-People Exchange in Washington.
"We're proud of the strength of these exchanges, but we think there's more to be done," said US Deputy Secretary of State Tony Blinken, adding that there are only about 14,000 US students in China, but close to 275,000 Chinese students in the United States.
Blinken said partnerships formed at this round of the CPE will encourage more cross-cultural study abroad.
Liu, co-chair of the CPE with US Secretary of State John Kerry, said the exchange of students is "our priority". China plans to launch a new initiative that will give 10,000 Chinese students scholarships to study in the US.
The nations announced that universities in both countries have signed memorandums of understanding to increase collaboration in research, and a higher-education meeting is planned for later this year.
A network of 42 historically black colleges in the US is announcing the formation of a US-China university scholarship alliance that will enable 1,000 US students to study in China with support from the Chinese government.
"Involvement and understanding are what people-to-people exchanges are all about - learning about each other's traditions, appreciating each other's cultures and concerns, worldviews and perspectives, and ultimately, if all goes well, understanding each other and generating trust that enables partnership," Blinken said.
The story of US-China relations "has the potential to be one of genuine accomplishment. There is literally no limit to its possibilities", he said. "That's good for the United States, and that's good for China. The CPE is an investment, and it's an investment that I'm convinced will continue to pay dividends for all of us."
There will be new exchanges between athletes, including fencing training camps in both countries and volleyball, snowboarding, water polo and basketball programs, according to Richard Stengel, undersecretary of state for public diplomacy and affairs.
The two countries will also cooperate in the arts with initiatives such as a joint film project currently being filmed in China by top director Zhang Yimou and starring US actor Matt Damon. The film is the largest production to be shot entirely in China, and will "connect people and foster mutual understanding", Stengel said.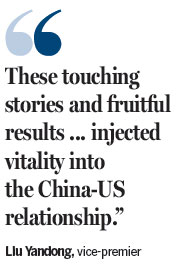 Zhang, speaking via video during the session, said the film will give viewers a "window into new places that they may have never seen before".
"These touching stories and fruitful results demonstrated the passion of people from different walks of life, revealed the charm of the CPE, and injected vitality into the China-US relationship," Liu said.
She said that the many productive outcomes of the CPE made her even more confident about the exchanges the two countries have engaged in, and she believes the magnitude and depth of cooperation between the two countries is unprecedented.
"More than 30 years ago, China's reform began, and so did normalization of relations," Liu said. "In the coming 30 years, China will strive to meet its goals of building a harmonious modern country.
"We will make sure that Chinese people will have better living conditions so they will live happier lives. The Chinese dream is about peaceful development and win-win cooperation, which is closely related to the American dream."
Liu said that "for China and the US, respecting each other, pursuing win-win cooperation, and (the) building of new model relations will not only bring benefits to the two peoples but will contribute to world peace. China will only open wider to the outside world, and China's environment will become fairer, more transparent and predictable."
amyhe@chinadailyusa.com