Teaming up for healthy hearts
Updated: 2015-06-24 12:04
By Dong Leshuo and Hua Shengdun in Washington (China Daily USA)
Comments
Print
Mail
Large
Medium
Small
The American Heart Association and China's Ministry of Science and Technology agreed to advance CPR training and cardiovascular science-sharing in China in Washington on Tuesday.
"Health is one of the eternal pursuits of mankind. As the No 1 killer for human health, cardiovascular diseases take over 1.7 million lives each year globally," said Liu Yandong, vice-premier of China. "Both China and the US are countries with high incidents of cardiovascular disease."
"We believe together we can create a world of 'life-savers', a world where everyone can live a healthier and longer life," said Douglas Boyle, volunteer chairman of the American Heart Association.
With Tuesday's signed Memoradum of Understanding, there are three key areas of cooperation: science engagement, expanding physician-exchange opportunities and expanding cardiopulmonary resuscitation (CPR) training and awareness in China, according to Boyle.
"This MoU allows us to work at a much higher level, with much more support and focus," he said. "This allows us to engage across the whole country. I think it really allows us to take the success we've had, and triple it, or quadruple it. It's a sad but shared fact of our common humanity that we have these problems, and we can help each other solve these problems.
"Cardiovascular disease knows no political or religious affiliation. In fact, it is the single leading cause of death globally, accounting for more than 17 million deaths per year - a figure that is expected to rise to 23 million by 2030," Boyle said.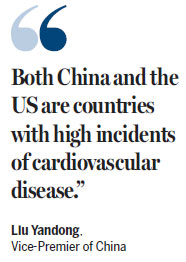 A report from the World Economic Forum and the Harvard School of Public Health estimated that the total global cost of cardiovascular disease will top $1 trillion in 2025.
"This loss impacts families, communities, and the economic burden it presents impacts entire healthcare systems and countries," Boyle said.
"This cooperative agreement has the potential to improve tens of millions of lives. We believe it will help reduce the impact of cardiovascular disease, and increase the number of people that are able to respond to these diseases, and will also help facilitate new science and improve overall outcomes," Boyle said.
"We expect to take full advantage of CPE and expand our cooperation," he said. "We gather here today, not only for concern of the health of the heart, but also the communication of our hearts.
"We hope to build more cooperation with the US through more practical programs of collaboration, expand common interests and common ground," he said.
Liu Jingyang in Washington contributed to this story.