IBM, China ink deal
Updated: 2015-06-24 04:53
By DONG LESHUO and HUA SHENGDUN in Washington (China Daily USA)
Comments
Print
Mail
Large
Medium
Small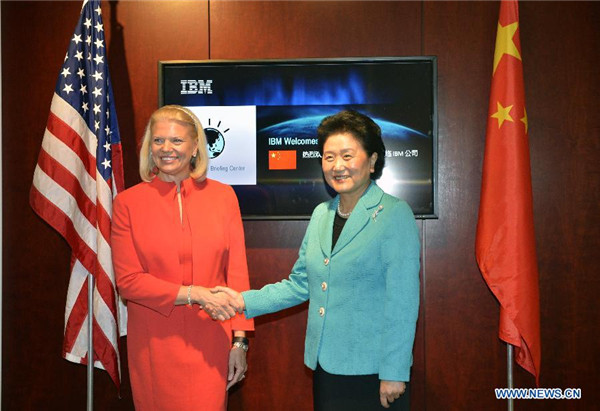 China's Vice-Premier Liu Yandong (R) and President and CEO of the International Business Machines Corporation (IBM) Ginni Rometty shake hands during Liu's visit to the company, in Washington DC, the United States, on June 23, 2015. [Photo/Xinhua]
IBM and the China Scholarship Council (CSC) signed an agreement to initiate a five-year strategic collaboration program in Washington, DC on Tuesday.
"Today, as we sign the Memorandum of Understanding about the US and China talent exchange, it is our contribution to the people-to-people exchange vice-premier Liu mentioned," said Ginni Rometty, chairman, president and CEO of IBM.
By the terms of the agreement, IBM will provide scholarships to distinguished American students to study in China in the fields of science, technology and engineering, while China sends students to study at IBM partner universities in the US.
"I appreciate IBM's efforts to support China's education and help with people-to-people exchange," said Liu Yandong, vice-premier of China.
"During the past 20 years, IBM has donated a total of 4.16 billion rmb to China's education. This is a remarkable number," said Chen Liming, chairman of IBM Greater China Group.
"We just celebrated our 30th anniversary in China, which is also the 20th anniversary of our cooperation with China's Ministry of Education. I hope IBM will play an even more important role in the 'New Normal' of China," Rometty said.
"In the past we made products for China. Now we are making products with China," Rometty said.
"The idea is we are licensing technology in China so China can build its own semiconductor industry and then build its own server products," Rometty said.
Rometty announced that the first Chinese-made and manufactured chip was just produced in the last month, which highlights the new "made-with-China" strategy.
"We are very satisfied with our cooperation with IBM," Liu said. "China is promoting a comprehensive reform, including the areas of education, science and health."