China-US Composers Project kicks off in DC
Updated: 2015-06-23 11:21
By AMY HE in Washington (chinadaily.com.cn)
Comments
Print
Mail
Large
Medium
Small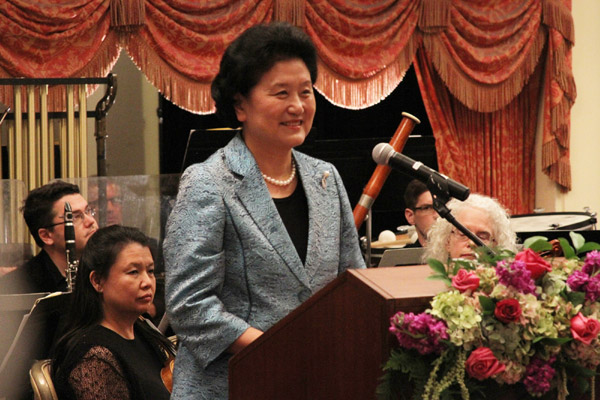 Vice-Premier Liu Yandong makes remarks on Monday at the kick-off concert for the China-America Composers Project in Washington, a musical collaboration between the American Composers Orchestra and the Beijing Modern Music Festival that showcases work from young and emerging composers from both countries. AMY HE / CHINA DAILY
The China-US Composer Project kicked off on Monday with a performance to celebrate the sixth round of the China-US High-Level Consultation on People-to-People Exchange.
The opening concert, attended by Liu Yandong, vice-premier of the State Council, was presented by the American Composers Orchestra and organized by China's Ministry of Culture. It was held at the Mayflower Renaissance Hotel.
"It is the distinct pleasure of mine to attend the inaugural concert of the China-US Composers Project, and I think it is of great significance to launch this important project on the eve of the sixth round of High-Level Consultation of People-to-People Exchange," Liu said before the concert.
Liu said that China-US music cooperation has been elevated to a "whole new level" and it will further relations between the two countries.
"Music knows no boundary, and music exchange plays a unique role in building friendship and cooperation," she said.
Michael Geller, president of the American Composers Orchestra, one of the partners of the China-US Composer Project alongside the Beijing Modern Music Festival, said that the project is a great exchange between composers of the two countries, and "not only of the famous composers. It's actually the future too — it's the young artists, the emerging composers." Geller spoke to China Daily prior to the concert.
The concert acts as a kickoff to the project, which will have three parts: a music festival that will take place in New York City in the fall of 2016, featuring Chinese and American composers; concerts by the American Composers Orchestra at the Beijing Modern Music Festival in spring 2017; and music readings by young and emerging composers from China and the US to promote their work between 2015 and 2017.
"I know cultural exchange is happening in all the arts (between China and the US), but in classical music we see a lot of exchange going on in what we call the standard repertoire — it's the well-known international composers," he said. "This is wonderful music, obviously, but the really interesting thing about this project is that it's so important to capture the voice of what is happening today in both countries."
Audiences in both the US and China don't have enough exposure to the different composers from the other country, he added, which is particularly important because they're creating "the music of our times".
"This is from very, very talented artists about where our countries are, and I think we'll lay the groundwork for a lot of mutual understanding and collaboration in the future," said Geller.
The concert program included performances from four composers: Missy Mazzoli, Li Shaosheng, Ye Xiaogang and Robert Beaser.
amyhe@chinadailyusa.com