Youth plays part in Sino-US relations
Updated: 2015-06-04 11:20
By Zheng Xin in New York (China Daily USA)
Comments
Print
Mail
Large
Medium
Small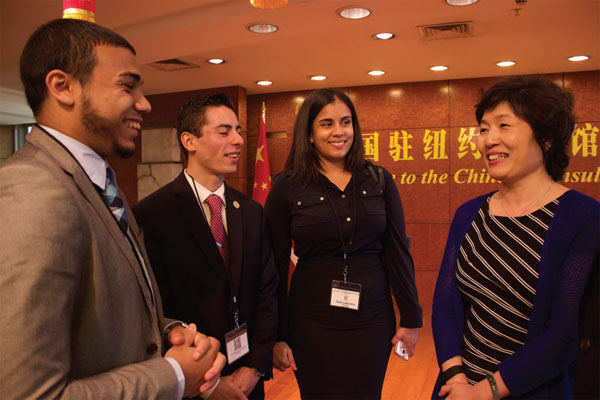 Zhang Qiyue (right), consul general of China in New York, talks with student representatives on the open day of the Chinese Consulate General in New York. [Photo by Hong Xiao / for China Daily]
Sino-US relations depend on the countries' younger generations, Deputy Consul General Zhang Meifang said on Wednesday, during an open day at the Chinese Consulate General in New York.
There is a shared responsibility between China and US, and they share the same mindset, the same goal of a better world and one of prosperity, she said during the opening speech.
More than 200 students and faculty members attended and shared their knowledge of China and suggestions on improving the China-US relationship. Students came from City University of New York, Columbia University, Weill Cornell Medical College, Fordham University, the Juilliard School, Kean University, New Jersey City University, the New York Institute of Technology, New York Medical College, NYU Polytechnic School of Engineering, Stevens Institute of Technology and Syracuse University.
The open day's purpose is to impel a better understanding of China and China-US relations, said Xu Yongji, counselor for education at the consulate general.
Consul General of China in New York Zhang Qiyue said she was looking forward to more exchange programs between China and the US.
Zhang Qiyue said she had witnessed a better mutual understanding and relationship since arriving in New York, as it's more convenient in recent years for Chinese students to come to US and vice versa.
"I'm glad to see more of the younger generations in US are more than ever interested in the Chinese culture and are looking forward to going to China," she said.
Omar Hammad, an undergraduate student from City University of New York, said he is very interested in China and its culture and is looking forward to an exchange program there.
"I'm working on applying for an exchange program with the National Science Foundation to go to China," said the environmental engineering major.
Hammad also said the application process is easier and more efficient compared to other Asian destinations.
According to Zhang Meifang, people-to-people exchanges between China and US have been flourishing in recent years, with one flight between China and the US every 24 minutes and about 10,000 people traveling across the Pacific Ocean every day.
"There are 41 pairs of sister states and provinces, 202 pairs of sister cities and more than 90 dialogues and cooperation mechanism between our two countries," she said.
The latest statistics from the Chinese Consulate General in New York show that more than 270,000 Chinese students are studying in the US, and 27,000 American students are studying in China. There have been 1.5 million Chinese students in the US over the past 35 years.
Three programs to promote student exchanges are being carried out, including the Fulbright program and the "100,000 Strong" initiative of the US government, it said.
According to Zhang Meifang, knowledge about China, especially among the Western media, is lacking, with China often portrayed negatively.
But over the years, understanding about China has gradually improved with more communication and exchanges, she added.
In addition to the people-to-people exchange, the trade and investment sectors have seen prosperity in recent years, with the two-way trade in goods between China and US since 1979 having increased 200-fold.
zhengxin@chinadaily.com.cn