'Japan's nuclear stockpile excessive'
Updated: 2014-03-25 09:41
By Fu Jing in The Hague, Netherlands (China Daily)
Comments
Print
Mail
Large
Medium
Small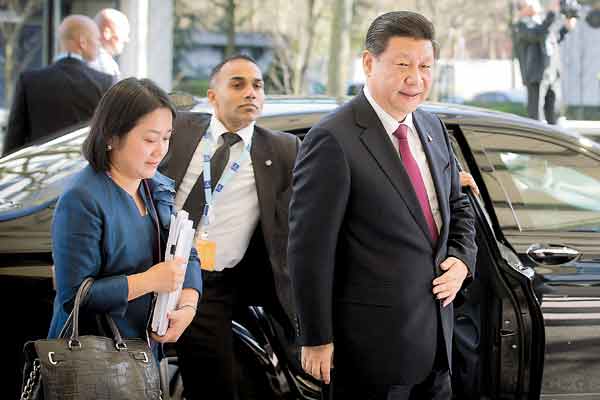 Chinese President Xi Jinping arrives at The World Forum in The Hague on the first day of the two-day Nuclear Security Summit. Robin Van Lonkhuijsen / Agence France-Presse
China has added its voice to international concerns over Japan's large stockpile of nuclear materials, saying the Japanese have exceeded their needs in nuclear power.
Such a large stockpile increases security risks, said Chen Kai, secretary-general of the China Arms Control and Nuclear Disarmament Association, said at a briefing on Monday before the plenary of the Nuclear Security Summit.
"The international community has found that Japan has stocked excessive amounts of nuclear material that surpasses its actual necessities of nuclear power," Chen said.
Also on Monday, US and Japanese officials announced that Japan plans to turn over to the US more than 315 kg of weapons-grade plutonium and a supply of highly enriched uranium.
US Energy Secretary Ernest Moniz calls the deal "a very significant nuclear security pledge".
The material designated for transfer to the US has been kept for decades at a research reactor site in Tokaimura, the site of a 1999 accident that killed two workers who mishandled a highly enriched uranium solution.
After a similar report in February, Foreign Ministry Spokeswoman Hua Chunying urged Japan to be responsible and tell the truth.
"China supports the US demand for Japan's return of weapons-grade plutonium. We also urge Japan to take concrete steps to give this batch of nuclear materials back to the US as soon as possible," Hua said.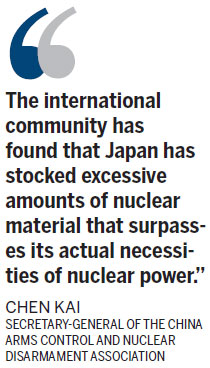 At Monday's summit in the Netherlands, Chen said China's nuclear materials are safe and under control because of high-security standards that were imposed during previous decades of nuclear power plant construction.
President Xi Jinping, who is attending the summit in The Hague, will constructively support the host's efforts to improve the level of global nuclear security, Chen said.
"Xi will comprehensively state China's position in his speech," Chen said before the summit opened.
Chen Xu, Chinese ambassador to the Netherlands, also spoke ahead of the summit. "We have maintained a constructive attitude in preparing for the summit and really hope it will be a complete success by distilling international consensus and strengthening global cooperation," he said.
Chen Xu said China has already established a sound record of nuclear security and will continue along that course. "We will not provide any chance for a nuclear terrorist," he said.
He said China has already submitted its national nuclear report to the summit, explaining in detail its measures for safeguarding nuclear material.
Fifty-three countries and four international organizations were invited to the summit. A joint communique on the prevention of nuclear terrorism is expected to be issued by all the leaders and organizations present at the summit.
In his report on the progress of negotiations in the walk-up to the Nuclear Security Summit, Piet de Klerk, the summit's chief negotiator, said measures should include reducing stockpiles of hazardous nuclear material around the world, better security for nuclear material and intensifying international cooperation.
The summits were initiated by US President Barack Obama, who pointed out the dangers of nuclear terrorism in a speech he gave in Prague in 2009. The first NSS was held in Washington, DC, in 2010, followed by a second summit in Seoul in March 2012.
fujing@chinadaily.com.cn