China to play important role at nuclear security meeting: Dutch PM
Updated: 2014-03-24 09:39
(Xinhua)
Comments
Print
Mail
Large
Medium
Small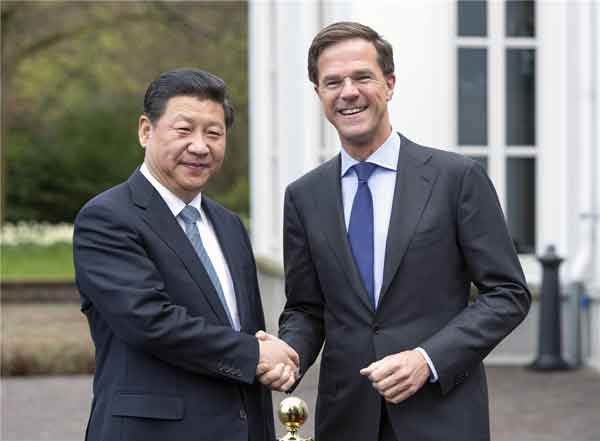 Prime Minister Mark Rutte (R) of the Netherlands welcomes China's President Xi Jinping on the second day of his state visit, at The Hague March 23, 2014. [Photo/Agencies]
THE HAGUE - Dutch Prime Minister Mark Rutte said on Sunday that he believes China will play an important role at the upcoming Nuclear Security Summit (NSS) in The Hague.
Speaking at a press conference ahead of the summit planned for Monday and Tuesday, Rutte noted he had held talks with Chinese President Xi Jinping earlier on Sunday.
"I had discussions with President Xi this morning," Rutte said. "We discussed many issues, (including) bilateral relations. Obviously we also talked about the NSS process."
"I believe he will play an important role during the summit. Why? Because China is a powerful player, an increasingly important factor at the world stage," he said.
"Secondly, China has a big industrial nuclear sector. They spend a lot of money on research," Rutte said.
"In addition, the Chinese president made clear he is personally aware of the dangers of nuclear material falling into the wrong hands. He is highly committed to making this conference a success, " Rutte said.
Xi arrived in the Netherlands Saturday for a state visit and the third NSS. His European tour will also take him to France, Germany and Belgium.