Leader's love of soccer scores big points
Updated: 2014-03-30 08:11
By Sun Xiaochen (China Daily)
Comments
Print
Mail
Large
Medium
Small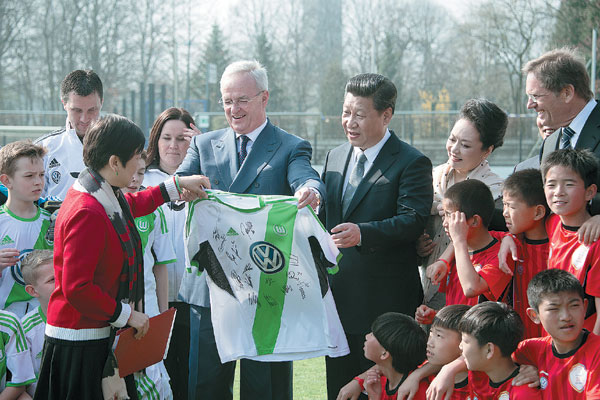 CEO of German carmaker Volkswagen Martin Winterkorn presents to President Xi Jinping a jersey of German Bundesliga club VfL Wolfsburg signed by the players. [Photo/Agencies]
Chinese President Xi Jinping's interest in soccer and concerns about the sport's development have helped him forge a man-of-the-people style that connects with the public, experts said.
Since taking his post as China's top leader, Xi has shown his interest in sports, especially soccer, at many diplomatic occasions. His latest remarks praising the Netherlands as the "uncrowned king" of international soccer during his visit has generated a positive buzz.
Many Internet users actively responded on the micro-blogging platform Sina Weibo to the comments - which Xi made at the Netherlands-China Trade and Economic Forum on Monday - citing Xi's approachable personality and closeness to the people.
"It's good to see 'Boss Xi' share the same interests with us as soccer fans. I believe a leader with such a common touch will also understand how the people think and what the people demand," a weibo user who goes by the moniker Huashanlunjian posted on his account on Monday.
Another user called Feng-yinzhe said: "I have no idea how many times President Xi has mentioned soccer during his overseas trips. Chinese soccer should work really hard to improve so it won't let him down."
On March 22, Xi also met former Dutch national player Edwin van der Sar at the welcoming banquet hosted by Dutch King Willem-Alexander, where Xi cheerfully chatted with the legendary goalkeeper. Xi voiced appreciation for the player's offer to help soccer's development among China's youth, China Radio International reported.
From a photo of him kicking a soccer ball in Ireland displayed in his office to his remarks at the Sochi Winter Olympics in February expressing hopes China will join the world's elite in winter sports and soccer, Xi's affection for the game distinguishes him from his predecessors, pundits said.
"As the country's top leader, Xi's strong interest in soccer really closes the emotional distance between him and the people," South China Normal University sports sociologist Lu Yuanzhen said.
"Self-declaring as a soccer fan served him well in building a gracious and modest public image. That differs sharply from the unreachable and serious stereotypes of China's top leaders," Lu said.
Xi's enthusiasm for soccer drew public attention even before he became president.
In July 2008, when he served as vice-president and oversaw the Beijing Olympics' organizing committee, Xi demonstrated his soccer skills for the first time in public by shooting a few goals during his stay in Qinhuangdao, Hebei province. He was in the city to inspect its Olympic preparation and visit the national women's squad.
Xi openly commented on Chinese soccer for the first time in October 2009 after he was given a Bayer Leverkusen uniform printed with his name as a gift during his visit to the German pharmaceutical company, which sponsored the Bundesliga club.
The level of Chinese soccer is relatively low. But after winning so many golds in other sports at the Beijing Olympics, China has become determined to improve its soccer, although that might take a long time, Xi said.
While a rapid improvement of Chinese soccer seems unrealistic, Xi's high hopes will strengthen the country's cohesiveness while effectively marketing the leader's image, said Li Shengxin, a Beijing Sport University associate professor and sports public relations expert.
"President Xi's expectation for soccer is in line with the 'Chinese dream' - a slogan he has promoted - and resonates with the public, who share the same goal. It has also helped him project a vibrant image," Li said.
Still, Chinese soccer is dogged by the national squad's poor international performance, and by corruption scandals that saw former soccer chiefs Xie Yalong and Nan Yong jailed for match-fixing.
Xi's attention reignited hopes among China's soccer fans since many expect that a soccer-loving leader may lift the sport from its doldrums.
"The president's concern has boosted our confidence that China's soccer will rise in the world in the not-too-distant future," Beijing Football Fan Club chairman Wang Wen said.
sunxiaochen@chinadaily.com.cn