President shows region nation ready for business
Updated: 2014-07-25 04:24
By ZHAO SHENGNAN (China Daily)
Comments
Print
Mail
Large
Medium
Small
President Xi Jinping headed home on Thursday after a long and successful tour of Latin America with dozens of deals signed and a clearer view of China's relations with the region, observers said.
China's commitment to boost infrastructure development and help the region diversify its exports away from raw materials was welcomed. The visit also established a broader platform for Chinese enterprises on the continent.
On Thursday Xi left Cuba, the last stop of his nearly two-week, four-nation trip.
He had also visited Brazil, Argentina and Venezuela and attended the sixth summit of the BRICS emerging-market bloc, grouping Brazil, Russia, India, China and South Africa.
Xi's charm and the region's willingness to work more closely with China were particularly evident when he met leaders from the 33-member Community of Latin American and Caribbean States, said Liu Yuqin, former Chinese ambassador to Cuba and Chile.
A decision to establish a cooperation forum was announced, and the community agreed to hold its first ministerial meeting in Beijing at an early date.
Xi sent a clear message through a number of deals that China not only aims to build up and diversify its trade with the region, but will also increase investment there to address key concerns such as a lack of infrastructure, Liu said.
Xi's charm offensive began in Brazil with the announcement by BRICS of a new development bank to sustain growth. Latin American leaders lavished praise on the move, which Xi followed up by increasing the credit line for infrastructure loans to the region to $20 billion.
China sealed a number of agreements in the four countries Xi visited, covering a wide range of sectors including energy, agriculture, hydroelectric projects and education.
China also made clear its interest in helping to build a railway across South America that would link ports on Brazil's Atlantic coast with Pacific ports in Peru.
"China has the money and expertise to invest in these areas," said Liu. "For Chinese enterprises expanding globally, this resource-rich region with fair business rules that meet international standards is a good choice. "
Bilateral trade has increased more than 20 times, from $12.6 billion in 2000 to $261.6 billion in 2013. About 20 percent of China's imports of crude oil and 60 percent of imports of soybeans came from Latin America.
Shen Yun'ao, the former Chinese ambassador to Argentina and Brazil, said the cooperation between China and some Latin American countries has become the model for collaboration among developing countries in the Southern Hemisphere.
During the visit, China upgraded its ties with Argentina and Venezuela to a "comprehensive strategic partnership".
Venezuelan political analyst Carlos Romero told Reuters: "China's political and economic expansion is pragmatic in character.
"It's not about ideology or competition with the United States, but a Chinese policy of looking long-term for natural resources in different parts of the world."
zhaoshengnan@chinadaily.com.cn
Background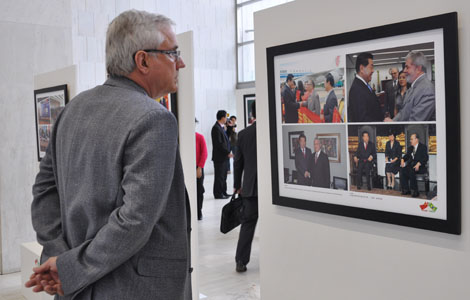 Feature