BRICS' good story will continue: envoy
Updated: 2014-06-30 04:14
By ZHANG FAN in Sao Paulo and LI WUZHOU in Beijing (China Daily Latin America)
Comments
Print
Mail
Large
Medium
Small
China deeply appreciates Brazil's efforts in preparing for the sixth BRICS (Brazil, Russian, India, China, South Africa) summit and paving the way for a successful meeting to enhance solidarity, mutual trust and mutual benefit among the BRICS members, said a Chinese senior official in charge of BRICS affairs in Beijing in mid-June.
Zhang Jun, director general of the Department of International Economic Affairs of China's Foreign Affairs Ministry, said on June 17 that the July summit is expected to map out future plans based on well-established progress, and China and Brazil, "as good friends and strategic partners", are both firm supporters and active participants in the process.
Zhang made the statement ahead of the sixth BRICS summit to be held in Fortaleza, Brazil, which is expected to achieve solid progress in core issues, including a BRICS Development Bank.
During the 5th BRICS summit in Durban, South Africa in 2013, Chinese President Xi Jinping urged the BRICS countries march towards the goal of establishing market linkage, a financial network, better connectivity and closer people-people contacts.
"The cooperation in these fields will become the centerpiece of future BRICS economic cooperation and will constitute a major contribution to a closer economic partnership among BRICS," said Zhang.
The concept of BRIC (Brazil, Russia, Indian and China) was first proposed in 2001 and has developed into BRICS with the addition of South Africa in 2011. With the first summit held in 2009 in Russia, BRICS is now one of the major mechanisms for developing countries with a combined nominal GDP of $16.039 trillion in 2013.
"Diversifying national circumstances, development patterns and cultural traditions among BRICS countries may sometimes bring different views on certain issues," said Zhang. "However, diversity does not preclude cooperation. On the contrary, it could turn out to be a driving force for BRICS countries to learn from each other and realize inclusive cooperation."
In the past decade, more than 50 percent of global economic growth has come from BRICS countries. To support the world's economy, the group contributed a total of $180 billion to the International Monetary Fund in two rounds.
"The BRICS members are not just pursuing their own interests, they are also committed to the world's common good," said Zhang.
"When the global economy was kicked down in the financial crisis with excessive volatility in markets, frozen capital flows and plummeting international trade, it was the BRICS, with the stable economic growth of its members, that prevented the global economy from falling apart," he added.
However, the BRICS's average economy witnessed a slowing down with the growth rate of the member countries decreasing to 5.1 percent in 2013, down from 7.4 percent in 2010. Such change aroused doubts among Western media as the Wall Street Journal wrote "BRICS fades as engine of growth".
"These views reflect some prejudices and discriminating views of BRICS," said Zhang. "The recent weaker economic growth in BRICS is mainly due to unfavorable external conditions, and is also a result of their internal structural reform undertaken to build more resilience and explore more endogenous growth."
Zhang said the overall economic growth rate of BRICS is still expected to exceed the global average in 2014 and be twice that of the developed economies.
"BRICS members still enjoy sound economic fundamentals with sufficient macroeconomic policy space and huge development potential. It is advisable to observe BRICS' performance with a dynamic, objective and balanced view. Hence, I have every reason to believe that BRICS will continue its good story," he said.
Contact the writer at fanzhang@chinadailyusa.com
Background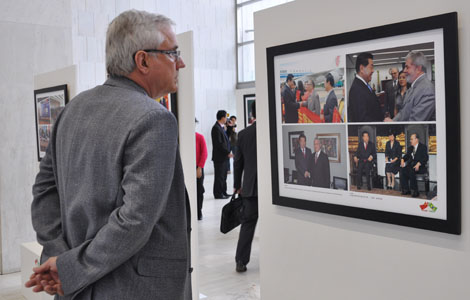 Feature